Michael D Higgins: 'Change must take place' in Northern Ireland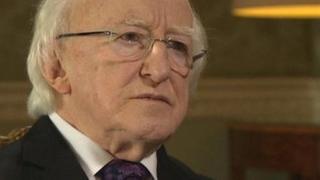 Irish President Michael D Higgins has called on the people of Northern Ireland to embrace "change" in dealing with the past.
He was speaking at Queen's University in Belfast at the launch of an event dealing with the legacy of the Troubles.
The president said dealing with the past was an "enormously complex task".
On Friday, the university will hold talks exploring the issues of dealing with Northern Ireland's past.
Speaking on Thursday evening, the president said the biggest changes needed to take place within communities.
"While some very significant gestures can be made by those of us who are in roles of leadership, it is, I repeat, in communities and in popular consciousness, that the most significant and enduring change must take place," he said.
'Shared remembering'
"Now happily, the qualities of closeness and warmth have been the hallmark of relationships between these islands in recent years.
"We owe this transformation to the hard work and courage of those who across generations and borders dedicated themselves to peace in Northern Ireland."
He also said "shared remembering" and continued acknowledgement of the past played an important part in the "journey towards healing, reconciliation and a future released from vengeful reaction".
"Some people argue that the burden of the past is too heavy, too painful, and that we are not capable of providing adequate answers to the multiple of questions still preoccupying and afflicting those directly affected by the violence of the Troubles," he added.
"However great that task may seem, it is not widely accepted that embracing amnesia is not only counter-productive, but in its consequences for victims and relatives, may constitute an immoral position."