Kosovo minister Enver Hoxhaj makes historic Serbia visit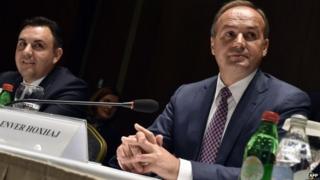 Enver Hoxhaj has become the first minister from Kosovo to officially visit Serbia since his country unilaterally seceded in 2008.
The Kosovan foreign minister hailed warmer ties between the two sides, and urged his hosts to agree to a peace treaty that would recognise Kosovo's independence.
Kosovo has been recognised by more than 100 countries.
But Serbia, backed by Russia and other states, has refused to do so.
Kosovan Albanians waged a secessionist war against Serbia in the late 1990s, which responded with a military crackdown against the territory and its civilians.
A Nato bombing campaign against Belgrade effectively forced Serbia to cede the territory, which was administered by the United Nations until 2008.
Mr Hoxhaj was visiting Serbia to take part in a regional ministerial meeting in Belgrade.
But he used the occasion to call for a peace treaty, and told reporters: "Wherever I go I embody Kosovo's sovereignty as an independent state."
Drone row
The visit has been seen as a chance to lower tensions between Serbia and Kosovo - which has a ruling ethnic Albanian majority and an ethnic Serbian minority.
The Kosovo situation still sparks tension between Serbia and Albania, which backs Kosovo's independence.
Last week, a football match between Serbia and Albania was abandoned after a drone flew over the stadium in Belgrade carrying a flag emblazoned with a black eagle, the symbol of Greater Albania.
It prompted scuffles among players and fans on the Partizan Stadium pitch.
The two nations are due to find out their punishment for the violence later on Thursday following a disciplinary hearing by European football's governing body Uefa.
Albania's Prime Minister Edi Rama was due to visit Serbia on Wednesday, but the football controversy forced him to postpone until 10 November.
He will be the first Albanian prime minister to visit in more than 70 years.