Philip Fenton: Tipperary horse trainer guilty over steroids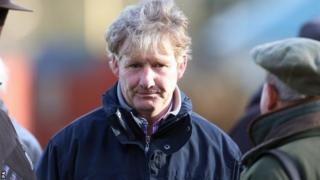 An Irish racehorse trainer has been found guilty of having performance-enhancing drugs and other animal remedies at his stables.
Philip Fenton, 49, from Garryduff, Carrick-on-Suir, County Tipperary, was found guilty of eight charges.
They related to having treatments and remedies found by Department of Agriculture officials following a search of his yard in January 2012.
The trainer was fined a total of 10,200 euros (£8,000)
On Thursday morning, Carrick-on-Suir district court was told that veterinary investigators found and seized more than 20 items when they carried out a search.
The items included prohibited steroids, including Nitrotain, a bottle of performance-enhancing drug Ilium Stanabolic, a counterfeit medicine and drugs held without prescription.
Hidden in box
Brendan Daly, of the department, told the court the items were found in a cardboard box, which had been hidden under a rug in an area beside the medicine's store.
---
Frank Keogh, BBC Sport racing reporter
In February, Philip Fenton trained Last Instalment to win the biggest contest in Irish jump racing, the Hennessy Gold Cup at Leopardstown.
Shortly afterwards, it emerged he faced this drugs investigation which has been hanging over him and the sport ever since.
Many will now wonder what punishment he might face from the Irish Turf Club, the regulatory body for horse racing in the Republic. His career hangs in the balance.
The organisation is also examining the case of Irish Grand National-winning trainer Pat Hughes, also recently found guilty of possessing unauthorised animal remedies.
---
Mr Daly said that when he asked Fenton why the box had been hidden in such a way, the defendant told him it was to lessen the effects of the inspection.
Under cross-examination, Mr Daly admitted that he had not taken an exhibit sheet with him on the search; nor had he brought identifying labels and that he had brought the box of materials home with him but had left them in a secure room at his house.
Fenton's defence accused the inspectors of breaking protocols in a totally unacceptable manner in carrying out the search.
Fenton was fined 1,000 euros each on six of the eight charges, with two being taken into consideration.
The racehorse trainer was also told to pay 2,000 euros in costs as well as 2,200 euros in expenses.
A representative of the Turf Club said after the guilty verdict that it would be launching its own investigation and will be taking the appropriate steps.