Istanbul consulates on alert after yellow powder sent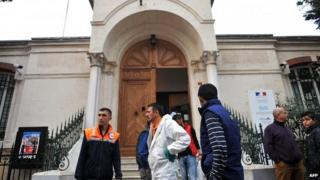 Envelopes containing an unknown yellow powder have been sent to five consulates in the Turkish city of Istanbul, officials say.
The US, Canadian, Belgian, German and French missions all received the packets, prompting security alerts.
Sixteen people who had been exposed to the powder were hospitalised as a precaution, the health ministry said.
The government has despatched chemical, radioactive and nuclear specialists to investigate.
The Canadian consulate was closed for the day after one person was reportedly directly exposed to the powder.
The German consulate said staff had been evacuated.
"We were told that an envelope was received, it contained a powder and it was dangerous. So we were sent home," a staff member said.
The US, Canada, Belgium, Germany and France are part of the coalition fighting Islamic State militants in Syria.
The alert comes after two Canadian soldiers were killed this week in Ottawa and Quebec in separate incidents, the latter by a suspected jihadist thought to be intending to travel to Syria via Turkey.
However there is no indication that the suspicious packages are linked to the conflict.
Turkey's security has been threatened by the chaos in Syria, reports the BBC's Mark Lowen in Istanbul.
Tensions have flared in recent weeks on the Turkish-Syrian border between soldiers and demonstrators expressing their support for Kurdish fighters trying to stop the IS advance.
More than 160,000 Syrians, mainly Kurds, have fled across the border since IS launched an offensive to capture Kobane on 15 September.