Beef farmers blockade abattoirs in price protest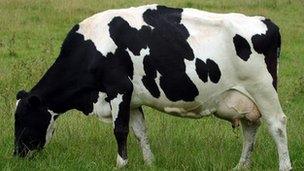 Beef farmers in the Republic of Ireland are staging a blockade of abattoirs in protest at the prices they are being paid for their cattle.
They claim UK markets are paying higher prices for imported Irish beef, but farmers are not seeing the benefit.
The first nationwide blockade of meat factories for almost 15 years is expected to continue on Tuesday.
Meat Industry Ireland said the action was "unnecessary, misguided and counterproductive".
The 24-hour protest has been organised by the Irish Farmers' Association (IFA).
Its president, Eddie Downey said farmers were not prepared to tolerate loss-making prices any longer.
The IFA is angry over what it says is a price gap of 350 euros (£275) per animal between what is paid in the Republic of Ireland and what is paid in Britain for cattle.
They said that Britain took over half of Irish beef exports and they could not understand how price increases in the UK had not been passed on to Irish farmers who have been making very significant losses on their animals since last winter.