Ukraine crisis: Report alleges Crimea rights abuses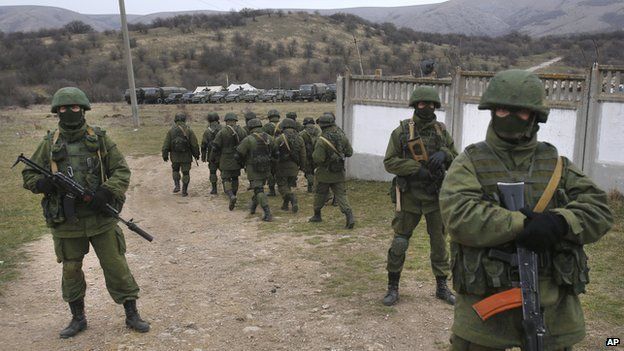 Europe's top human rights watchdog, the Council of Europe, says serious human rights abuses have been committed in Crimea since Russia annexed the peninsula in March.
A council report called on Moscow to thoroughly investigate suspicious deaths, abductions and intimidation.
Minority Crimean Tatars and Ukrainians who refused Russian citizenship had been targeted, the report said.
Russia's takeover and annexation of the Crimean peninsula was widely condemned.
The author, rights commissioner Nils Muiznieks, visited Crimea last month.
He said the violence there was often carried out by local volunteer militia groups. He called for the Crimean Self-Defence forces to be disbanded and said that human rights violators must not be granted an amnesty.
Journalists in Crimea have also suffered attacks and intimidation, he complained.
His report urged the authorities to investigate thoroughly the death of protester Reshat Ametov and three missing local civil society activists - Leonid Korzh, Timur Shaimardanov and Seiran Zinedinov.
The new Crimean leaders loyal to Russian President Vladimir Putin do not have international recognition.
The 300,000-strong Muslim Tatar community - which makes up 15% of Crimea's population - opposed the peninsula's incorporation into Russia.