Italy President Napolitano denies knowing of Mafia deal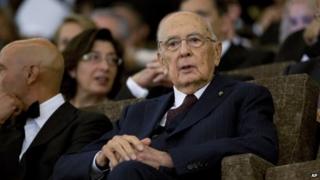 Italian President Giorgio Napolitano has denied knowing of any secret talks between the state and the Mafia, while appearing as a witness at a trial.
Prosecutors accuse ministers, police chiefs and the Mafia of colluding to calm rampant violence in the 1990s.
Mr Napolitano - a senior politician at the time - is not accused of wrongdoing but was summoned because he may have useful information.
The hearing was held privately in Rome, prompting protests from journalists.
The trial was relocated from Sicily to the presidential palace in the capital in order to hear Mr Napolitano's testimony.
He gave evidence for more than three hours. Prosecutors believe Mr Napolitano may have recently been told about the alleged deal with the Mafia - but he denied this was the case.
Later on Tuesday, the president's office issued a statement saying he had answered all questions with "the utmost transparency and serenity", and had waived his right to remain silent.
Luca Cianferoni, a lawyer for the jailed former Mafia boss Salvatore Riina, told reporters "the president effectively said he was a spectator to this affair".
Riina is one of the defendants in the trial. Other defendants include the former interior minister, Nicola Mancino, who is accused of negotiating with the Mafia after they carried out attacks on the Italian mainland. Mr Mancino denies the charges.
Prosecutors are investigating a dramatic period of Mafia violence in the 1990s - marked by car bombings and assassinations.
Two leading anti-mafia prosecutors, Giovanni Falcone and Paolo Borsellino, died in devastating explosions in Sicily in 1992. There were further bombings in Rome, Florence and Milan in 1993.
Prosecutors allege that government officials sought to make an agreement with the Mafia, reportedly promising less harsh jail conditions in exchange for calling off the bombing campaign.
They also argue that the government's willingness to talk to the Mafia encouraged further violence.
Prosecutors wanted to ask Mr Napolitano about a letter sent to him from his legal adviser Loris D'Ambrosio in 2012. The letter is said to imply that Mr Napolitano may have known about talks with the Mafia.
At the time of the bombings, Giorgio Napolitano was president of Italy's Chamber of Deputies in the lower house of parliament.
In October last year, the president wrote a letter to the court saying he had "no useful knowledge" to give the trial, but would have been happy to give evidence if he had.
The court ruled last year that President Napolitano could not be asked about conversations he had with Mr Mancino in 2011 and 2012. Evidence from an intercepted phone-call was destroyed after an application from Mr Napolitano.
A final verdict in the case is not expected for at least two more years.