France denies Russia warship delivery reports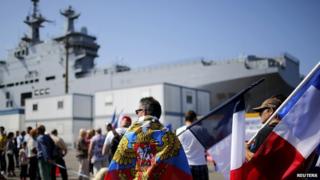 France has denied reports that it is ready to go ahead with the controversial delivery of a helicopter carrier to the Russian navy.
Dmitry Rogozin, a senior Russian defence official, tweeted earlier that an invitation had been received to a November handover ceremony.
The Vladivostok warship was due to have been handed over in October.
France has previously said conditions were "not right" for the deal - a reference to Russia's role in Ukraine.
The Vladivostok is the first of two Mistral-class amphibious assault ships that Russia had ordered from France in a contract worth $1.2bn euros ($1.6bn; £0.95bn).
When the deal was signed in 2011, the French president at the time, Nicolas Sarkozy, said it was evidence that the Cold War had ended.
However, tensions between Russia and the West were rekindled this year with Russia's annexation of the Ukrainian territory of Crimea and its alleged support for pro-Russian rebels in the country's east.
US President Barack Obama expressed concern over the deal, saying it would have been "preferable to press the pause button" over it.
EU leaders also warned that Russia would use the warship to threaten its neighbours.
However, French President Francois Hollande had until recently resisted pressure to call off the delivery.
He argued that cancellation would prove too costly and that the contract was not covered by sanctions imposed upon Russia earlier this year.
This summer, some 400 Russian sailors arrived in France to train for taking over the warship, docked in Saint-Nazaire.
But in September, Mr Hollande said delivery was not appropriate under current conditions, and would only go ahead if there was a "ceasefire and a political settlement" in Ukraine.
Although a ceasefire has been agreed between Ukraine's government and the pro-Russian rebels, it is regularly violated, with both sides blaming each other.
Tensions were further heightened this week when Russia said it would recognise an election planned by separatist rebels in eastern Ukraine.
The US warned Russia that the move would violate international agreements while Ukraine said it would damage the peace process.
French Defence Minister Jean-Yves Le Drian said this week that President Hollande would make his decision on whether to hand over the ship "at the moment of delivery" in November.
On Wednesday, Mr Rogozin, a deputy prime minister in Russia with responsibility for the country's defence industry, tweeted an image of what he claimed was a French invitation to the handover of the Vladivostok on 14 November. The invitation is dated 8 October.
The French presidency reportedly reiterated on Wednesday that a decision on delivery had yet to be made. The French manufacturer of the warship, DCNS, also said a date for delivery had not been confirmed, according to the AFP news agency.