EDF France: Inquiry after drones buzz nuclear sites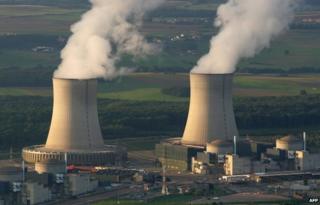 An investigation has been launched after France's state-owned EDF power company said unidentified drones had flown over seven of its nuclear plants.
The first unmanned aircraft was spotted on 5 October and there had been further sightings up to 20 October, EDF said.
Who is behind the drones is unclear but pressure group Greenpeace has denied any involvement.
Interior Minister Bernard Cazeneuve says measures are being taken to "neutralise" the drones.
Under French law, no aircraft is allowed to enter a 5km-wide (three-mile) zone around a nuclear plant, nor fly below 1,000m (3,300ft) there.
The air force is responsible for the protection of all such sites.
France is 75% reliant on nuclear power for its electricity and has 58 reactors operated by EDF at 19 sites.
According to the company, the first drone flew over its Creys-Malville plant at Isere in south-east France, 50km (31 miles) east of Lyon.
EDF says other incidents took place at
Bugey in the southeast
Blayais in the south-west
Cattenom and Chooz in the north-east
Gravelines in the north
Nogent-sur-Seine, the closest plant to Paris
Most of the flights took place between 13 and 20 October and either at night or early in the morning, the company says.
'No threat'
Greenpeace said a drone had also flown over the CEA nuclear research institute in Paris and accused EDF of minimising the significance of the incidents. Le Figaro website reported that drones had flown over several other CEA sites as well.
Air force spokesman Col Jean-Pascal Breton said all the drones involved were small-sized and commercially available and because of their size they were not considered a threat.
Mr Cazeneuve said a judicial inquiry was under way and measures were being taken to "know what these drones are and neutralise them".
Suspicion had initially fallen on Greenpeace as a paraglider from the activist group flew over the Bugey plant in 2012. Last month, 55 Greenpeace activists were given suspended sentences for breaking into the nuclear power station at Fessenheim near the German border.
But the group was adamant that it was always very open with its activities and had nothing to do with the drones.
"The overflights in question took place sometimes on the same day at four sites which are far apart from each other," Greenpeace said in a statement. "For example at Bugey, Gravelines, Chooz and Nogent-sur-Seine on 19 October - which proves it's a large-scale operation."
EDF said there had been no implications for the "security or the functioning" of the plants and the company had "no fear" of the drones as they were unlikely to cause any damage.
President Francois Hollande has pledged to reduce the number of French reactors by 2025, bringing France's reliance on nuclear energy down from 75% to 50%.