Dublin airport: Security alert on board Aer Lingus flight after man claims he has Ebola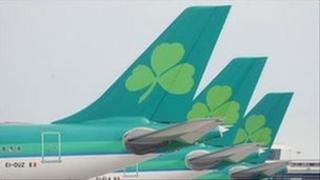 A man has been charged after cabin crew staff were warned of Ebola on board a flight to Dublin.
A passenger had shown a plastic cup to a flight attendant marked 'Attentione Ebola' on the Aer Lingus flight from Milan.
The captain was notified and Dublin Airport Authority was informed.
On arrival, three passengers were medically examined. It was found there was no evidence of a health risk.
At about 14:15 GMT the crew and passengers were allowed to disembark and a police cordon placed at the aircraft was removed.
Two woman aged 51 and 23 arrested on Thursday have been released.
A 56-year-old man is due to appear in court on Friday.