Portugal navy escorts Russian ship away from coast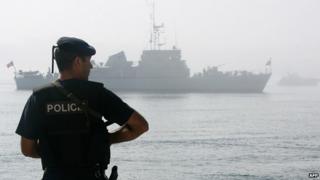 A Portuguese navy ship has escorted a Russian oceanic research vessel away from Portugal's maritime economic zone.
The incident happened early on Wednesday, Portugal's defence minister said. The Russian ship was in international waters, more than 12 nautical miles (22km) from the coast.
Jose Pedro Aguiar-Branco was speaking in Lithuania, where Portugal is leading a Nato air patrol mission.
Last week Portuguese F-16 fighter jets tracked Russian fighters in the Baltic.
Nato says Russia has intensified military flights in international airspace close to Nato member states' borders.
A pair of Russian Tu-95 Bear bombers flew all the way to Portugal - in international airspace - before heading back to northern Russia.
The BBC's Alison Roberts in Lisbon writes:
Portugal was one of several Nato countries whose airspace was approached last week by Russian planes without notice or explanation - a move alliance officials described as "provocative".
Now Portugal says the waters of its economic zone have also been breached.
The fact that Mr Aguiar Branco made his comments in Lithuania, where he was visiting members of a Portuguese air force mission leading Nato patrols in the Baltic states, would seem to confirm the linkage to tensions arising from the situation in Ukraine.
Nato accuses Russia of supplying heavy weapons to separatist rebels in eastern Ukraine and sending in "volunteer" soldiers. Russia denies the allegations, in what has been called Europe's worst security crisis since the Cold War.
The Portuguese ship that intercepted the Russian hydrographical vessel on Wednesday was a corvette sailing from the southern port of Faro.
Under international law a country's Exclusive Economic Zone extends 200 nautical miles from the coast, most of it in international waters.
There were suspicions recently that a Russian submarine had penetrated the waters near Sweden's capital Stockholm. Sweden mounted a huge search operation lasting several days, which proved fruitless.