Deutsche Bahn strike hits Berlin Wall commemorations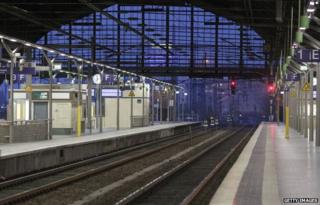 A four-day rail strike, billed as the longest in German history, has hit passenger trains and threatens to disrupt celebrations marking the 1989 fall of the Berlin Wall.
The stoppage by the 20,000-member GDL union hit intercity and regional services alike on Thursday and is due to last until early on Monday.
Rail operator Deutsche Bahn is seeking an injunction to halt the strike.
The union rejected the company's offer of arbitration late on Wednesday.
As commuters struggled to work, on the roads and on restricted rail services, there was widespread concern that the strike would hit up to two million people travelling to Berlin for the 25th anniversary celebrations of the fall of the wall.
Events are being held throughout the weekend, with concerts, a street festival at the Brandenburg Gate, and guests of honour such as former Soviet President Mikhail Gorbachev.
The weekend's Bundesliga football matches are also likely to be hit by the 100-hour stoppage.
Deutsche Bahn, facing the longest strike in its 20-year history, complained of "massive disturbances" for travellers. The company's request for an injunction will be heard by a court in Frankfurt later.
One traveller in Munich complained that he was unable to go to Frankfurt: "There are no hire cars left at the station and the buses are booked solid." A bus booking website reported a five-fold rise in traffic on its site.
Traffic jams were reported on many key roads across Germany. A 30km (18-mile) jam on the A81 motorway between Heilbronn and Stuttgart in the south-western state of Baden-Wuerttemberg was described as the worst.
An estimated 30% of long distance trains were running on Thursday morning, while services were more variable on regional and suburban S-Bahn trains.
In some eastern areas, as few as 15% of trains were running, while the number was higher in southern states such as Bavaria.
In areas such as South Bavaria, regional services were barely affected because they are operated privately or by a subsidiary.
GDL is calling for a 5% pay rise and working week cut to 37 hours. But it has been widely criticised for rejecting mediation.
The head of the DBB civil service union, Klaus Dauderstaedt, said he would have recommended arbitration but the union's head Claus Weselsky argued that Deutsche Bahn had failed to engage with the train drivers seriously.
Sticking point
The company has been hit by several rounds of industrial action since September. Last month, passengers faced a 50-hour strike.
The latest action began on Wednesday on goods trains and spread to passenger services at 02:00 (01:00 GMT) on Thursday.
A major sticking point in negotiations was the GDL union's demand to negotiate on behalf of other train staff, including conductors and restaurant staff.
Germany's government is expected to produce a draft law later this year aimed at stopping small numbers of employees paralysing large parts of the country's infrastructure through strike action.