Russia opens oil price-fixing probe against top firms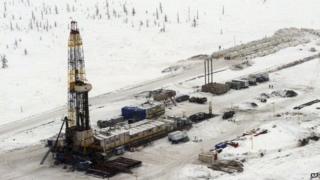 Russian state inspectors have opened an inquiry into major Russian oil firms suspected of market rigging to push up petrol prices nationally.
The Federal Anti-Monopoly Service (FAS) is investigating Bashneft and Lukoil - both privately-owned - as well as state-owned Rosneft.
The FAS says many deals between Russian oil firms on the commodities exchange this year look suspicious.
Russia's state revenue has been hit by plunging world oil prices.
It is one of the world's biggest exporters of oil and gas.
But the EU and US have targeted Russia's oil industry in sanctions imposed because of Russia's role in the Ukraine conflict. Oil exploration technology and services are affected, hitting Russia's plans to develop new Siberian fields.
Rouble slumps
The Russian rouble - heavily dependent on the health of energy exports - has fallen to a new record low of 45.3 to the dollar, after the central bank announced that it would limit intervention to prop it up.
The rouble has lost more than a quarter of its value against the dollar since the start of the year.
A statement (in Russian) published on the FAS website on Wednesday said "we believe there are signs of manipulation on the [Russian commodities] exchange".
The FAS says petrol prices for Russian motorists are beginning to fall now, but "that does not go far enough, so today the FAS launched this investigation - and there may be other cases too".
Bashneft is already under investigation in a separate case involving alleged money-laundering and its billionaire owner Vladimir Yevtushenkov is under house arrest.
The case has been compared by some commentators to the state takeover of oil giant Yukos in 2003.
In August Rosneft asked the Russian government for a $42bn (£25.2bn) loan as Western sanctions began to bite into its operations.