Gennady Timchenko: Kremlin dismisses US allegations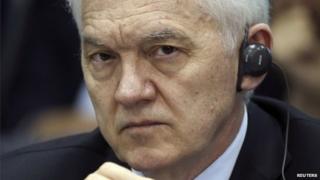 US allegations of money laundering against a close associate of Vladimir Putin amount to another attack on the Russian president, the Kremlin's spokesman has said.
"The West does it continuously and we cannot express anything but bewilderment," Dmitry Peskov said.
It follows a US report that Gennady Timchenko, co-founder of trading house Gunvor, was being investigated.
A spokesman for Mr Timchenko denied any wrongdoing by the businessman.
Earlier, the Wall Street Journal said: "The prosecutors are probing transactions in which the Geneva-based commodities firm Mr Timchenko founded, Gunvor Group, purchased oil from Russia's OAO Rosneft and later sold it to third parties."
The newspaper said prosecutors in New York were investigating whether funds related to allegedly corrupt deals in Russia were transferred through the US financial system.
When contacted by the BBC, the prosecutor's office for the Eastern District of New York declined to comment.
A statement issued by Mr Timchenko's holding company Volga Group said: "Mr Timchenko has not received any notification from the US law enforcement bodies (including the US Attorney's Office for the Eastern District of New York or the US Department of Justice) on any investigation into his activities.
"Mr Timchenko has always conducted his business activities in strict compliance with the law and the highest standards of business ethics."
'Political crossfire'
Gunvor said it had not been notified of any probe into the company and did not act as an intermediary between buyers and sellers.
A spokesman said there was no evidence to support allegations against the company, which he said had been "caught in the political crossfire".
One source quoted by the Wall Street Journal said investigators were also seeking to establish whether the alleged transactions had any connection with Mr Putin's personal wealth.
Gunvor said: "When it comes to President Putin, he does not and never has had any ownership, beneficial or otherwise in Gunvor. He is not a beneficiary of Gunvor or its activities, directly or indirectly."
Mr Peskov was quoted by the Moscow Echo website as saying it was "absurd to speculate" about financial ties between Mr Putin and Mr Timchenko.
Mr Timchenko, who is estimated by Forbes to be worth about $13bn (£8bn), is a long-standing friend of Mr Putin.
He is one of the main targets of US sanctions imposed on Russian individuals and businesses in response to the annexation of Crimea and the crisis in eastern Ukraine.
Several companies linked to Mr Timchenko have faced US sanctions, including gas producer Novatek, investment strategy firm Volga Group and the construction holding company Stroytransgaz Group.