French UMP hit by anti-Sarkozy plot claim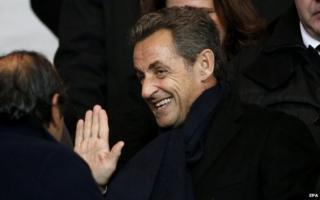 Allegations that a former prime minister under Nicolas Sarkozy tried to halt the ex-president's political comeback have shaken French politics.
Francois Fillon denies a report that in June he asked President Francois Hollande's chief of staff to speed up legal cases lodged against Mr Sarkozy.
The chief of staff, Jean-Pierre Jouyet, initially denied the report but then admitted the cases had been discussed.
Mr Fillon has accused the Socialist president's chief of staff of lying.
"If Mr Jouyet said that, it's a lie. It would be extremely serious, it would be a national scandal," he told French TV late on Sunday.
The affair has rocked the centre-right opposition UMP, which is in the middle of a leadership battle in which Mr Sarkozy faces challenges from several candidates including Mr Fillon.
Mr Sarkozy won the presidency in 2007 but was voted out in 2012 and is now facing a series of legal cases in which he denies any wrongdoing.
He has been caught up in investigations into illegal party funding and last year he was cleared of taking big cash donations from a wealthy heiress.
He was placed in police custody in July by anti-corruption magistrates on suspicion of trying to influence senior judges.
The former president condemned the move, suggesting there had been "political interference" and likening it to the work of the secret police in communist-era East Germany.
The claim that a party colleague may have tried to push the process forward emerged in a report last Thursday detailing Mr Fillon's lunch meeting in June with Jean-Pierre Jouyet not far from the Elysee Palace.
The allegations were made in a book about the ex-president by two Le Monde journalists.
According to the reporters' account of a later conversation they had with Mr Jouyet, Mr Fillon told him: "If you don't hit him (Nicolas Sarkozy) quickly, you'll let him come back, so act."
Mr Fillon said on Sunday he would sue for defamation.
In an attempt to rally the UMP, Mr Sarkozy's spokesman told French radio on Monday that President Francois Hollande's chief of staff had to leave his post.
"There's no reason not to believe Fillon," Gerald Darmanin told RTL.
Another candidate for the party leadership, Herve Mariton, told French TV he thought Mr Fillon was "sufficiently intelligent" not to have called for the Elysee Palace's intervention in a judicial case.
One party that stands to gain the most from the row that has enveloped both the ruling Socialists and the opposition centre right is the far-right and anti-establishment National Front, which is riding high in opinion polls.
A National Front spokesman said he thought everyone was lying a little.