Brian Farrell: Former RTÉ broadcaster has died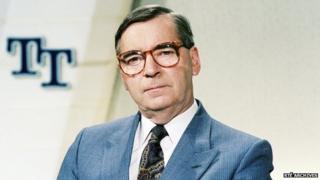 The renowned former RTÉ broadcaster, author and academic Brian Farrell has died at the age of 85.
Mr Farrell started broadcasting in 1957 and presented numerous programmes for RTÉ including The Political Programme, Today Tonight and Prime Time.
His published works included The Founding of Dáil Éireann, Chairman or Chief and Seán Lemass.
RTÉ Director General Noel Curran has led tributes to Mr Farrell.
"Brian Farrell was one of the most respected and talented current affairs presenters ever to appear on RTÉ," he added.
"Having started out on Radio Éireann, he was there from the very beginning of Telefís Éireann in 1962.
"On Broadsheet, Newsbeat, 7 Days, Today Tonight, and Prime Time, his incisive analysis was paired with a unique presentation style and a depth of knowledge about Irish politics that was extraordinary.
"He was also a fantastic colleague. Wise, witty, supportive but also not afraid to challenge, he was a hugely positive presence on the current affairs team. I consider it a privilege to have worked with him. Our thoughts are with his family."
Mr Farrell was educated at University College Dublin (UCD) and then at Harvard.
He was later appointed an associate professor in government and political science at UCD.