Ukraine crisis: Heavy artillery fire rocks Donetsk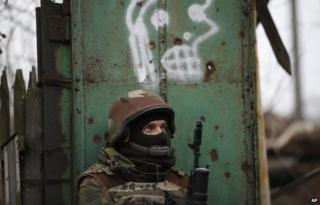 Heavy artillery fire has rocked the east Ukrainian city of Donetsk, the industrial hub held by pro-Russian separatist rebels.
Shelling can been heard in the city almost daily but Wednesday's bombardment was the strongest since the weekend, AFP news agency reports.
It was unclear whether the fire came from besieging government forces or the rebels themselves or both.
There are also reports of fighting near the rebel-held city of Luhansk.
In another development, Nato's top commander, US Gen Philip Breedlove, accused Russia on Tuesday of moving forces "capable of being nuclear'' to Crimea, the Ukrainian territory it annexed in March after a controversial referendum.
Nato did not know if nuclear weapons were actually in place, the Associated Press news agency reports.
One Ukrainian soldier was killed and another injured north of Luhansk, when rebels fired on government positions near the village of Schastya, Ukrainian security forces said.
More than 4,000 people have died since government forces moved in April to put down an armed insurrection by the rebels in the two regions, which border Russia.
A fragile ceasefire was agreed in Minsk on 5 September, although hundreds of people have been killed since then.
German Chancellor Angela Merkel said her government was "not satisfied" with the lack of progress in implementing the Minsk agreement but added that there were no plans at present for further economic sanctions on Russia over its involvement in Ukraine.
"Further economic sanctions are not planned at the moment, we are focusing on the winter and the humanitarian situation there and how to get a real ceasefire," she said.
The Organization for Security and Cooperation in Europe (OSCE) said on Tuesday there was a "rising" risk that the conflict would get worse.
"The level of violence in eastern Ukraine and the risk of further escalation remain high and are rising," OSCE representative Michael Bociurkiw told reporters in Kiev.
"More than two months after the signing of the Minsk protocol memorandum, the firing has not ceased."