Vojislav Seselj war crimes trial: Suspect back in Belgrade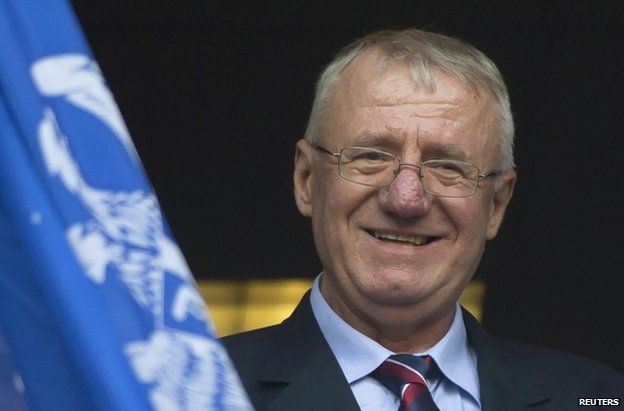 Serbian ultra-nationalist Vojislav Seselj, on trial at the UN war crimes tribunal at The Hague, has arrived in Belgrade for cancer treatment.
The court decided to release him for treatment on humanitarian grounds, with Serbia guaranteeing he will be returned to the court for the verdict.
Mr Seselj said his aim was to overthrow Serbia's leaders, whom he called "traitors" and "servants of the West".
Earlier, he said he was going home "not for treatment, but for revenge".
He denies charges of committing war crimes in Croatia and Bosnia in the period August 1991-September 1993.
Serbian doctors say he suffers from cancer of the colon which has spread to his liver.
Hundreds of supporters turned up at the airport along with family members to welcome him home.
In Bosnia, representatives of several associations of the victims of the 1992-1995 war said Mr Seselj's release as a "shameful act".
"Our wounds are reopened," Ahmet Grahic, head of an association of families of missing people from the Zvornik area, told AFP news agency.