Rosetta comet: One giant leap for Europe (not Nasa)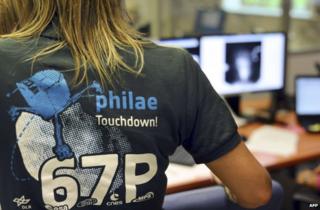 It was a great moment for space exploration and it wasn't Nasa, it was Europe - for the information of those who assume otherwise...
Nobody had ever landed a probe on a comet before. European Space Agency (Esa) scientists clapped, hugged and punched the air at mission control in Darmstadt, Germany.
And they tweeted. "We are the first to have done that, and that will stay forever!" Esa Director General Jean-Jacques Dordain was quoted by the agency as saying.
The speaker of the European Parliament, Martin Schulz of Germany, sounded ecstatic in his post.
Across the world, it became a little "nerdy" at times as toasts were raised to Esa's good health, to quote this tweet by photographer Carlos Henriquez in New York City.
Philae the Robot Probe announced its own landing on Twitter, giving out its "new address" as Comet 67P/Churyumov-Gerasimenko in a range of European languages, including English, Romanian, Latvian and Lithuanian, and notably Russian - perhaps in a nod to former Soviet astronomer Svetlana Gerasimenko herself, who was in Germany for the occasion.
Philae is not alone in space - its various parts are also tweeting merrily from the comet, as one post pointed out.
The Google search engine escorted Philae in to land with a doodle.
Esa's own graphics department illustrated the size of Comet 67P by suspending it over various European cities. Yes, it does dwarf the Colosseum.
Meanwhile, some Americans were talking up their national space programme.
And Nasa was politely setting them right.
.
European press review: BBC Monitoring
Pictures of Philae and P67 - also affectionately known as "Churi" - are a prominent feature of the mainly front-page coverage of the landing.
Two German papers note that the landing was not smooth. The country's biggest tabloid, Bild, refers to Philae's "bumpy landing", which daily Frankfurter Allgemeine describes as a "spectacular double landing".
In Italy, the papers are celebrating their country's contribution to the Rosetta Mission, claiming that "the contribution of Italian science was essential."
La Repubblica says: "It's a new step for humanity, one of those that make you dream."
The excitement is echoed in Spain. "We're on a comet" an El Correo headline next to a large picture of the probe says. The paper pays tribute to the "historic landing".