Armenian helicopter downing: 'Grave consequences' warning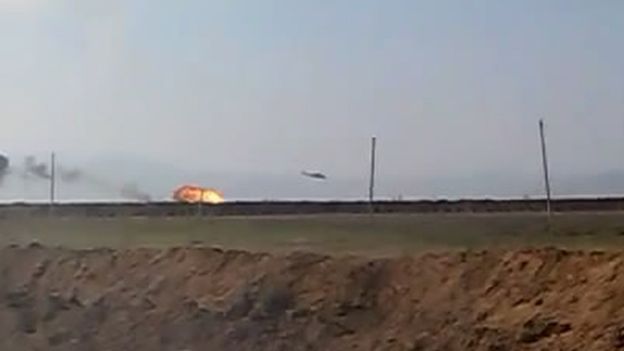 Armenia has threatened "grave consequences" after Azerbaijan shot down one of its helicopter in the disputed Nagorno-Karabakh region.
All three crew members on board were killed in the incident, Armenian media report.
Azerbaijan's defence ministry said the Mi-24 helicopter was downed after it tried to attack its positions.
Nagorno-Karabakh is part of Azerbaijan but has been under Armenian control since a 1994 ceasefire.
During the collapse of Soviet rule, the two sides fought a bloody war over the territory, at a cost of 30,000 lives.
"This is an unprecedented escalation and the consequences for Azerbaijan will be grave," Armenian foreign ministry spokesman Artsrun Hovannisyan said.
A further statement from Armenia's foreign ministry accused the Azeris of a "criminal provocation" and of "gravely violating agreements reached at recent summits".
Azerbaijan's foreign ministry said the aircraft had illegally intruded on Azerbaijani airspace. A statement on local media called for the withdrawal of Armenian forces from the territory.
Mediators appointed by the Organisation for Security and Co-operation in Europe (OSCE) said they were "deeply worried" by the incident.
Wednesday's incident is the first time an aircraft has been shot down in the region since the 1994 truce.
Under the deal, landlocked Nagorno-Karabakh and seven adjacent Azerbaijani districts were left under the control of ethnic Armenian forces.
There have been sporadic clashes ever since, but violence escalated over the summer with at least 19 soldiers killed in clashes.
Armenian forces have been carrying out military drills over the past week in Nagorno-Karabakh.
The presidents of the two countries met in Paris last month with French President Francois Hollande in an attempt to ease tensions.
But despite years of negotiations, a peace agreement is yet to be reached,