'Ice cream' killer Carranza publishing memoirs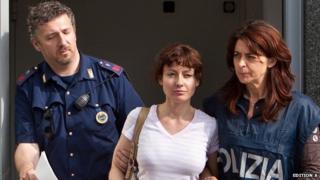 A Spanish-Mexican woman who chopped up her ex-husband and her lover and hid their remains in the cellar of her Vienna ice cream parlour is publishing her memoirs.
Estibaliz Carranza, 36, is serving a life sentence in a secure mental institution in Austria for the murders of her ex-husband, Holger Holz, and her lover, Manfred Hinterberger.
"I don't ask for understanding or for pardon," Carranza writes in her book, My Two Lives, The True Story of the Ice Lady, co-written with journalist Martina Prewein.
The case of the "ice cream murders" shocked Austria.
Carranza shot Holger Holz in the head in 2008 as he sat in front of a computer. Two years later she killed her lover, Manfred Hinterberger, as he slept.
She decapitated and chopped up both bodies with a chainsaw. She cemented their heads and body parts into flower pots and plastic buckets which she then hid in the cellar of her ice cream parlour.
"I killed two men, whom I once loved," Carranza writes.
"There is no way of glossing this over," she says. "I robbed two mothers of their sons."
"I believed I had to serve men, no matter how they behaved towards me," she writes.
She said she had simply been unable to break up with her lover, Manfred Hinterberger.
"I couldn't say no. I couldn't do it, I couldn't get free of him."
She said she made them into "monsters and finally they made me a beast".
Her publisher, Bernhard Salomon, told the BBC that Carranza was not being paid for the book, which is published on Monday.
She "waived her right to a fee for the sake of the relatives", he said.
So far there has been no response from the victims' families.
The publishing company, Edition A, has released a short summary of the book, which begins with the moment Carranza discovers she is pregnant, by a third man, in 2011.
It describes how she hoped the two murders would never be discovered and how she was looking forward to a happy future.
A few days later, maintenance workers found the bones and body parts of her ex-husband and lover in the cellar of her ice cream parlour.
Carranza fled, taking a taxi to Udine in Italy, a 480km (300 mile) drive through the Alps.
Police arrested her in the lodgings of a street musician and she was extradited to Austria.
The book, the summary says, describes her relationships with her victims, as well as her marriage in prison to the father of her child.
During her trial in 2012, court psychiatrist Adelheid Kastner said there was a higher than average chance Carranza could kill again.