Romania's expatriate voters overshadow presidential poll
By Petru Clej
Romania analyst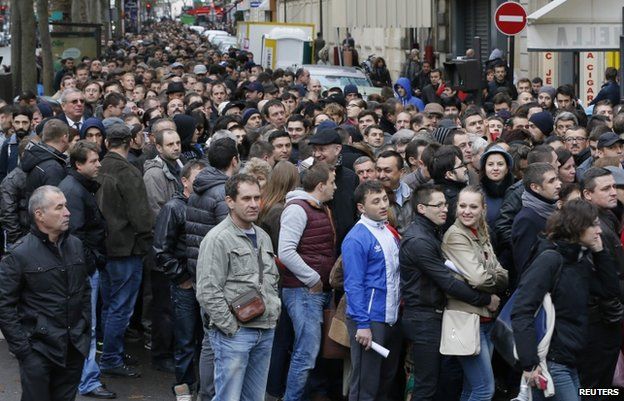 Romanians voting abroad overshadowed Sunday's presidential election from the start, but in the end the centre-right winner, Klaus Iohannis, did not need them.
Centre-left PM Victor Ponta, 42, conceded victory on the strength of the domestic vote.
However, many Iohannis supporters believe it was the determination of expats to cast their votes that inspired what is being seen as the biggest electoral upset in modern Romanian history.
Mr Ponta had been well ahead of Mr Iohannis in the first round but turnout increased from 52% to 64% in the second round.
The 55-year-old ethnic German candidate, campaigning on an anti-corruption platform, had been widely expected to win the expatriate vote.
And when exit polls put the two candidates neck-and-neck, it looked as if the fate of the presidency would be decided abroad, as it was in 2009.
Five years ago Traian Basescu pipped his rival Mircea Geoana - a Social Democratic Party (PSD) colleague of Mr Ponta - by 70,000 votes out of a total of 10 million, and expat voters gave him the edge.
Some three to four million Romanians live abroad, the vast majority in Europe, mainly in Italy (one million) and Spain (one million).
Klaus Iohannis - Romania's president-elect
Made his name as mayor of Sibiu, a major tourist destination in Transylvania
A Protestant former physics teacher from Romania's ethnic German minority
Ethnic German minority dates back to 12th Century but most left after the 1989 fall of dictator Ceausescu
Campaigned against corruption
Became leader of Liberal party (PNL) in June
Votes cast by Romanians abroad more than doubled in the second round of the run-off. Provisional figures show that 379,000 expat voters turned out (more than 3% of the total).
Thousands had been unable to vote in the first round on 2 November because of a lack of polling stations.
Foreign Minister Titus Corlatean resigned last week after claiming the law prohibited the opening of more polling stations between the two rounds, in spite of a ruling by the Central Electoral Bureau which said there were no legal impediments.
Voters on Sunday braved long queues and adverse weather, determined to cast their ballots.
Lines of voters snaked through the streets of large European cities including Paris, London, Brussels, Rome, Madrid, Milan, Stuttgart and Munich.
The new Foreign Minister, Teodor Melescanu, a former presidential candidate who threw his support behind Mr Ponta, had also refused to increase the number of polling stations.
Speaking in France on Sunday, he urged Romanians struggling to cast their ballots in Paris to travel instead to Nancy, nearly 400km (250 miles) away.
By evening, the frustration of voters queuing at the Romanian embassy at Paris boiled over and police used tear gas to disperse hundreds of people.
The anger of expat voters was echoed in the Romanian capital, Bucharest, where several thousand people took to the streets in solidarity.