Details of revised Republic of Ireland water charges due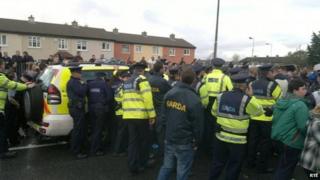 Details of the Irish government's revised plan for water charges are to be made known this week.
A simplified system is expected to be agreed by the Cabinet on Tuesday, ahead of the plan being outlined in Irish parliament (Dáil) on Wednesday.
The Irish coalition government has faced unprecedented protests over domestic water charges.
The charges are being imposed in every household and the bills will begin to arrive early next year.
Several politicians have criticised the nature of one weekend demonstration in Dublin, during which Deputy Prime Minister (Tánaiste) Joan Burton was trapped in her car for more than two hours.
Health Minister Leo Varadkar said there had been reports of intimidation, aggression, sexist remarks and abuse of police at the protest in Jobstown on Saturday.