Romania presidential election: Profile of Klaus Iohannis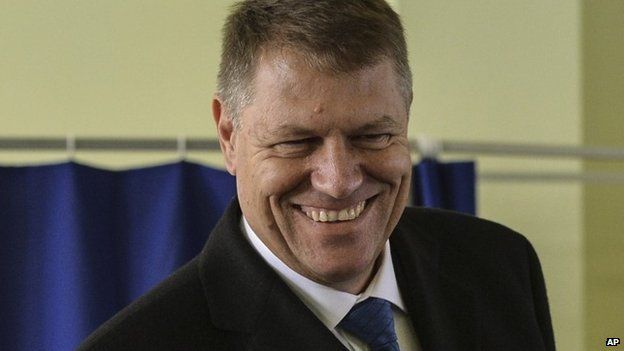 Klaus Iohannis rose from relative obscurity to become Romania's surprise president.
The 55-year-old's main challenger for the job, Prime Minister Victor Ponta, comfortably won the first round of a presidential poll in early November.
But in country still struggling to emerge from decades of communist rule, Mr Iohannis' reputation as a man who gets things done appears to have worked in his favour.
Romania's new president was born an outsider, his parents members of the country's tiny community of ethnic Germans.
A former secondary school physics teacher, he rose to prominence after being elected mayor of Sibiu, a Transylvanian city which he transformed into a leading tourist attraction.
A talented manager, he helped renovate Sibiu's medieval town centre. His efforts were eventually rewarded in 2007 when the city was named alongside Luxembourg as European Capital of Culture.
His ethnic German roots have sometimes been a talking point but rarely a hindrance.
The tens of thousands of ethnic Germans in Romania have roots stretching back several centuries.
Yet unlike many others, following the fall of communist dictator Nicolae Ceaușescu in 1989, Mr Iohannis opted to stay in the country and forge his future.
He is often referred to within his own country simply as "the German", according to AFP news agency,
But his outsider status - Mr Iohannis is also a Protestant in a largely Romanian Orthodox Christian country - could well have made the difference for many voters.
Romania is still riddled with corruption. Unlike Victor Ponta, Mr Iohannis - who was backed by two centre-right parties - made a point of calling for greater political transparency and judicial independence.
However even this relative political newcomer did not manage to completely evade allegations of impropriety.
An anti-corruption body, the National Integrity Agency, criticised him for being on the board of a company while mayor of Sibiu, something forbidden under Romanian law.
A message published on Facebook after his victory said, "We won, we have recovered our country."
For a political outsider who has never yet held high office in Romania, the task of living up to his supporters' expectations will now begin.