Paris row after Triangle skyscraper rejected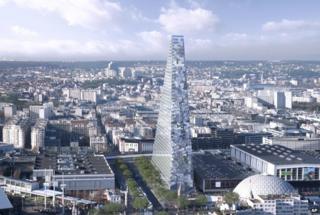 Amid politically charged scenes, Paris city council has narrowly rejected a plan to build the historic city's first skyscraper since a height restriction was imposed in the 1970s.
But Mayor Anne Hidalgo said the secret ballot had not been respected and she would fight the Triangle tower vote.
Other than the Eiffel Tower, the only tall building in central Paris is the 1973 Montparnasse tower office block.
Opponents say the Triangle tower would not suit the area it is planned for.
The architects, Herzog and de Meuron, proposed to build the 180m (590ft) tower in the south-west Porte de Versailles area of the city, after then-Mayor Bertrand Delanoe proposed an end to the 37m limit in parts of the capital.
Several skyscrapers have been erected in La Defense, the business district on the western fringes of central Paris.
Many Parisians feel the city's renowned 19th Century skyline was disfigured by the Montparnasse tower and critics of the Triangle project fear the same effect.
But the Triangle's defenders argue that it will create 5,000 jobs.
Monday's cliff-hanger vote on the Triangle tower threatened to turn into farce as Paris city councillors rejected the plans by a margin of 83 votes to 78.
Immediately, the Socialist mayor said the result was invalid because some centre-right UMP opponents of the project had revealed how they had voted in the secret ballot.
Ms Hidalgo's one-time rival for the post of mayor, Natalie Kosciusko-Morizet, was among those opposing the tower and another councillor even posted a picture of his No vote on Twitter (in French).
They had called for a public vote rather than a secret ballot to ensure transparency.
"The law hasn't been respected," said the mayor. "All the ballots shown have been declared invalid."