Irish PM Enda Kenny: Violent water charges protesters have 'sinister agenda'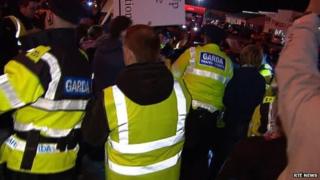 The Irish prime minister has said that people behind violent protests against water charges have a sinister agenda.
Scuffles broke out as Enda Kenny arrived outside a Fine Gael meeting at the Sligo Park Hotel on Monday.
The deputy prime minister Joan Burton and finance minister Michael Noonan have also been confronted by protesters.
Speaking to Ocean FM, Mr Kenny questioned the agenda of those who were protesting.
"I know many of these people and their protest is not about water.
"It's a very different, more sinister agenda.
"And you don't protest about an issue in the way that they did: They blocked the entrance, they jumped on top of the car.
"We can't go on with having this kind of situation.
"Everybody in this country has a contribution to make and somebody's got to pay for the water.
"And what we're saying is that people will make a contribution that is fair and affordable and accountable and they will see that on Wednesday," he added.
He also asked if the "ringleaders" had any care for the women and children outside, who could have been injured.
About 400 people gathered to protest against water charges outside the hotel.
When Mr Kenny arrived, protesters blocked his car and banged on the vehicle, police tried to direct them away.
After the car got through, scuffles continued between police and protesters.
One woman fainted and was treated in an ambulance.
The first water charges bills will not arrive until spring 2015.
There are expected to be two rates; €176 (£140) for a single-adult household and €278 (£222) for a household of two adults or more.
All households will get €100 (£80) rebate if they register with the social protection department.