Romania Foreign Minister Melescanu resigns over vote row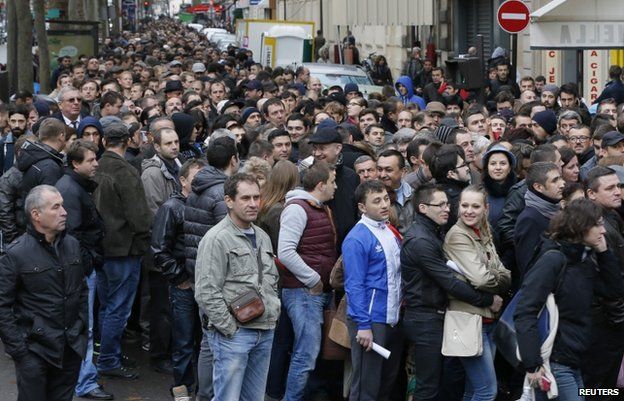 Romanian Foreign Minister Teodor Melescanu has stepped down, a week after his predecessor, because of problems faced by expatriate voters.
Thousands of expats were unable to vote in Sunday's presidential election run-off, a fortnight after similar problems in the first-round vote.
A large majority of foreign-based voters backed anti-corruption candidate Klaus Iohannis, who won the election.
The ethnic German candidate unexpectedly defeated PM Victor Ponta.
Although the number of expat voters more than doubled from the first round to almost 380,000, Mr Ponta's government's handling of the crisis was widely seen as contributing to his opponent's victory.
Days after the first round voting debacle, thousands of Romanians took to the streets in protest. Mr Melescanu's predecessor Titus Corlatean insisted there was no legal basis to increase the number of polling stations and later resigned.
More polling booths were put up and more staff deployed, but thousands of Romanians had to queue again for hours outside embassies and consulates across Europe
Police in Paris fired tear gas as tempers flared on Sunday evening
In Munich, would-be voters brandished toothbrushes as a gesture about the length of time they had waited
In London, Brussels, Milan and Stuttgart, surrounding streets were full of queuing voters.
Mr Melescanu was ridiculed when, on a visit to Paris on Sunday, he suggested voters should travel instead to another polling station in the city of Nancy, almost 400km (250 miles) to the east of the French capital.
Announcing his resignation on Tuesday, he said he had to take responsibility for the fact that not everybody who had wanted to register their vote abroad had been able to.
"Since we live in a country where nobody is too keen to take responsibilities and the only concern is to shift responsibility from one person to another, I, as a man of honour, take this responsibility and will tender my resignation," he told reporters.
Mr Iohannis, a former physics teacher who became mayor the central city of Sibiu, has pledged to tackle corruption "as soon as possible".
He also said he would fight a proposed law granting amnesties to people jailed for corruption, a promise that has secured the backing of Mr Ponta.
Romania is one of the poorest countries in the EU. In a report earlier this year the European Commission said petty and political corruption remained a significant problem and political will to tackle it had been "inconsistent".
Klaus Iohannis - Romania's president-elect
Made his name as mayor of Sibiu, a major tourist destination in Transylvania
A Protestant former physics teacher from Romania's ethnic German minority
Ethnic German minority dates back to 12th Century but most left after the 1989 fall of dictator Ceausescu
Campaigned against corruption
Became leader of Liberal party (PNL) in June.