French tycoon Serge Dassault's '53m-euro cash deliveries' probed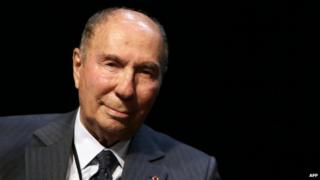 An accountant for French billionaire and politician Serge Dassault has said he delivered 53m euros in cash to him over several years, local media report.
Mr Dassault, 89, was mayor in the Paris suburb of Corbeil-Essonnes between 1995 and 2009. He is currently being investigated for alleged vote-buying.
The accountant, Gerard Limat, reportedly said he brought him bundles of 100-euro bills, wrapped in newspaper, from a Swiss company.
Mr Dassault denies vote-buying.
The tycoon is heir to Dassault Aviation, a company that produces jets, including the Rafale fighter.
He is ranked as France's fourth-richest man, with an estimated fortune of 13bn euros (£11bn; $18bn). He is also a senator in the centre-right UMP party.
In April, Mr Dassault was placed under formal investigation for vote-buying and complicity in illegal campaign financing. He denies the charges.
'Codenames'
The latest reports were published by the newspaper Liberation and broadcaster France Inter (in French), who said they had accessed the transcript from Mr Dassault's hearing in October.
Mr Limat, 74, said he made the cash deliveries between 1995 and 2012, Liberation reported.
Mr Limat said the deliveries were organised by a Swiss financial firm that would give him the money to pass on to Mr Dassault.
A delivery man would give him a plastic bag with cash wrapped in newspapers, Mr Limat said, adding that they identified each other using code names.
"I never saw the money because I went straight to the roundabout [of the Champs-Elysees, where Mr Dassault's offices were based]," Mr Limat was quoted as saying.
"I went up to Serge Dassault's office, I placed the bag in a corner of his office and we immediately spoke about other things."
Mr Limat denies knowing how the cash was used, AFP news agency reports.
Mr Dassault denies using the money to buy votes, and says he made large cash donations to philanthropic causes in the Middle East.
Three mayoral elections in Corbeil-Essonnes between 2008 and 2010 are being investigated for vote-buying.
Mr Dassault won the 2008 poll, while the following two were won by his political ally Jean-Pierre Bechter.