Father Ted star Pauline McLynn knits woollen jumpers for battery hens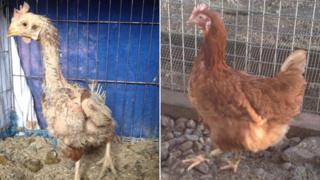 A campaign to knit jumpers for rescued hens is being led by Father Ted star Pauline McLynn, better known as Mrs Doyle from the Channel 4 sit-com.
Instead of making the tea, she is making woollen body warmers for the featherless birds, as thousands are due to be rescued from battery farms.
Having spent their lives in cages, the hens do not have feathers to keep warm.
Ms McLynn is patron of an Irish animal rescue sanctuary, which is trying to re-home more than 7,000 battery hens.
'Cold and bald'
She told Irish state broadcaster RTÉ "Their beaks are clipped, they've never stretched their wings and their feathers haven't grown because they've just been involved in laying eggs for their entire little lives.
"When they come out they are bald and it's really cold so I'm knitting jumpers for them."
Last year, LittleHill Animal Rescue and Sanctuary in County Kildare said it rescued 7,000 hens from slaughter, and "re-homed them all around Ireland".
This month, the sanctuary will attempt to repeat that rescue, as another batch of hens are facing slaughter.
'Hen hotline'
LittleHill's founder Susan Anderson has launched Operation Hen Rescue 2014 and has enlisted the help of Ireland's most famous housekeeper.
Ms McLynn told RTÉ: "There's a band of ladies and gentlemen all round Ireland knitting little jumpers at the moment for these hens."
LittleHill Animal Rescue is also running a "hen hotline" so members of the public can reserve a rescued bird for adoption.
Ms Anderson has been involved in animal welfare for more than 20 years and her sanctuary also looks after abandoned and neglected dogs, cats and horses.