Ukraine crisis: Joe Biden warns Russia faces 'isolation'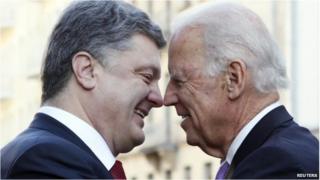 US Vice-President Joe Biden has warned Russia faces "rising costs and greater isolation" if it fails to respect the September peace deal in Ukraine.
Mr Biden, on a visit to Ukraine where he met President Petro Poroshenko, called on Russia to withdraw its military forces from Ukraine.
Ukrainians are marking a year since the start of the uprising which ousted pro-Russian President Viktor Yanukovych.
Amid celebrations, they paid tribute to those killed over the winter in Kiev.
Ukraine formed a coalition government on Friday with a mission to overhaul the economy, fight corruption and pursue integration with the EU.
Since the ousting of Mr Yanukovych in February, Russia has annexed Crimea from Ukraine after a disputed referendum. while a separatist conflict in eastern Ukraine has cost at least 4,300 lives.
Russia is regularly accused of arming separatist rebels but its officials deny the allegations.
---
The tweet that started a revolution: Patrick Jackson, BBC News
An appeal on social media is credited by many with starting the wave of protests one year ago which ended in the overthrow of President Viktor Yanukovych.
Mustafa Nayyem, a Ukrainian investigative journalist of Afghan origin, asked people on Twitter and Facebook to spread his call to meet that night on Independence Square - the space at the heart of the Ukrainian capital affectionately known as the Maidan ("square" in Ukrainian).
"We're meeting at 22:30 by the Independence Monument," he wrote in Russian. "Dress up warm. Bring umbrellas, coffee, tea and friends." Turn out they did and the Maidan quickly became the focus of protests against Mr Yanukovych's political turn towards Russia.
A year later, the Yanukovych administration is gone and pro-Western revolutionaries have consolidated their hold on Kiev through elections.
Mr Nayyem himself, to the consternation of many former allies, went into mainstream politics and is now an MP for the party of the new President, Petro Poroshenko. But in a recent BBC interview, he said he wanted to pave the way for a new kind of transparent, honest politics. "I want to be honest and I want to be free," he said.
Media on Kiev protests one year on
---
'Russia and her proxies'
After stressing the danger posed to Ukraine by Russian aggression, the US vice-president said there was a "different path for Russia and her proxies".
He said Russia should respect the ceasefire, restore Ukrainian control over its own borders and remove "illegal military formations, military equipment and militants".
He said Russian President Vladimir Putin had agreed to carry out all of those actions, but none had occurred.
In the run-up to Mr Biden's visit, Russian officials warned the US against selling arms to the government in Kiev.
American officials told the Reuters news agency that Mr Biden would announce an increase in supplies including radars and vehicles, but would not supply arms.
Figures released by the UN human rights office on Thursday show that an average of 13 people have been killed daily in eastern Ukraine since the 5 September ceasefire came into place.
A report by the UN described a total breakdown of law and order in the rebel-held Donetsk and Luhansk regions. It also highlighted allegations of abuses by government forces.
---
Human cost of conflict in east Ukraine
4,317 deaths since April, 957 of them since the 5 September ceasefire, and 9,921 people wounded
466,829 internally displaced persons within Ukraine
454,339 refugees living abroad, 387,355 of them in Russia
UN data from 18 November
Ukraine's year of chaotic events
---
But President Putin told an audience in Moscow that popular uprisings in Ukraine, Georgia and Kyrgyzstan had yielded "tragic consequences".
Conflict broke out in eastern Ukraine when the government in Kiev launched an operation to recapture areas seized by pro-Russian rebels, weeks after Russia had annexed Ukraine's Crimea region.
By early August, Ukrainian forces looked to have captured much of the territory held by the rebels.
But the rebels made a dramatic turnaround, apparently with direct help from Russia, pushing Ukrainian troops out of their territory.
On 5 September, the sides agreed a ceasefire and promised to pull military forces out of the area.