Portugal's ex-PM Jose Socrates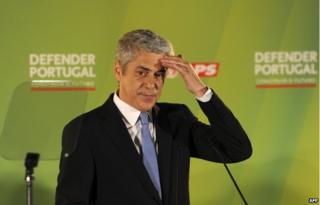 Jose Socrates was the first Socialist leader to win an absolute majority in Portugal but left politics amid the humiliation of an international bailout and the withering effects of austerity.
Now this combative, stylishly dressed former politician is under investigation amid allegations of corruption and money laundering that have enveloped his driver, a business friend and a lawyer.
The inquiry is covered by judicial secrecy but accounts have emerged in Portuguese media about alleged transfers of cash and the purchase of the former prime minister's lavish Paris flat worth a reputed €3m (£2.3m; $3.75m).
Jose Socrates is no stranger to controversy, batting off several other scandals in recent years.
He repeatedly denied media allegations in 2009 surrounding the construction of a shopping centre in a Lisbon suburb near the Tagus river estuary while he was environment minister in 2002.
No charges were brought against him and the long-lasting investigation was dropped.
Political conscience
Jose Socrates has spent much of his life in politics, prompting admiration for confronting vested interests but disdain in equal measure.
Born on 6 September 1957 in a rural area of northern Portugal, he was raised by his divorced father, an architect.
His political conscience was stirred by the 1974 Carnation Revolution that ended almost 50 years of dictatorship, the teenaged Socrates joined the centre-right Social Democrats and then worked as an engineer, before settling on the opposition Socialists in 1981.
His record in engineering was not a great success and he was later taken to task as prime minister for stating that he had a degree from a private university in Lisbon when he was not in fact a fully fledged civil engineer.
By the age of 30 he had entered parliament and joined Antonio Guterres' minority government in 1995 as environment minister.
He first made a name for himself in 2001 when pressed ahead with legislation to incinerate dangerous waste in factory furnaces, facing down widespread and determined opposition, including from within his own party.
He is also said to have originated reforms that eventually decriminalised drug use.
By 2004, he was leading the party and the following year swept to electoral success. During the election campaign, he admitted he was a "ferocious animal" when stirred to anger.
When he came to power, Portugal was edging out of recession but already struggling under the weight of austerity measures.
Within two years, his Socialist government had halved Portugal's public deficit. After an upturn in the economy, however, Portugal was hit by the 2008 financial crisis.
He was returned to power in 2009 at the head of a minority government. But the public deficit soared and successive austerity measures failed to calm the markets.
Borrowing costs were rising and, as Greece and Ireland sought international bailouts, Mr Socrates tried to resist help from the EU and IMF.
He won admirers for fighting on, but his already weak government eventually fell in March 2011 when the centre-right opposition refused to back a fourth package of austerity measures.
He was left with no choice when Portugal's banks withdrew their support, apparently under instruction from the European Central Bank and the Bank of Portugal.
As caretaker prime minister, he announced in May 2011 that Portugal was seeking €78bn in financial assistance, which was to be repaid over three years.
A month later, he lost a snap election and left politics, moving to Paris to study political sciences and eventually taking on a job as Latin America consultant with Swiss multinational Octopharma in 2013.
Despite his move to France, he was still visible to Portuguese TV viewers, providing a weekly political commentary for public broadcaster RPT.