Spain arrests Granada priests over child sex abuse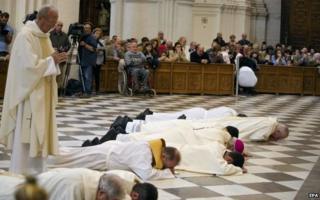 Police in Spain have arrested three priests and one layman on suspicion of child sex abuse, according to the country's interior minister.
Jorge Fernandez Diaz said the arrests took place in the southern city of Granada, but gave no further details.
The Archdiocese of Granada suspended several priests last week after a man wrote to Pope Francis saying he was abused when he was an altar boy.
The Catholic Church has been rocked by the scandal of sexual abuse by priests.
Media reports said the latest inquiry was personally ordered by the Pope, who also telephoned the man directly to apologise on behalf of the church.
Vatican spokesman Federico Lombardi refused to confirm or deny the call, according to the Associated Press.
The interior minister did not name those detained as part of the investigation, and details remain unclear due to a secrecy order imposed by a judge.
However, Spanish newspaper El Pais said all were believed to be members of the ultraconservative group known as Los Romanones.
On Sunday, the Archbishop of Granada, Francisco Javier Martinez, and other clerics prostrated themselves on the floor of the city's cathedral to seek pardon for sexual abuse in the Church.
Many survivors of abuse by priests are angry at what they see as the Vatican's failure to punish senior officials who have been accused of covering up scandals.
Last year Pope Francis strengthened the Vatican's laws against child abuse.
In July, he begged forgiveness from the victims of sexual abuse by priests, and condemned the Church's "complicity" in hiding the "grave crimes" committed by clerics.