Dublin house fire: Baby thrown from house caught by neighbour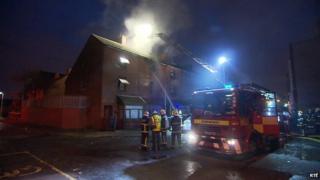 A three-month-old baby has been thrown to safety from a burning house in Dublin city centre, as part of a rescue operation that saw five other people escape the blaze.
A three-year-old toddler was also passed through a window following the fire at a house in Gloucester Place on Tuesday morning.
The two children and four adults were brought to hospital following the fire.
Six units of the fire service and three ambulances attended the scene.
A neighbour, Mark Furlong, 20, said he had caught the baby after hearing screams coming from the three-storey house.
He said the occupants pleaded with him to catch the infant.
"I didn't think about it, I just ran straight up and the fella shouted to me and said 'grab the baby'," he said.
"I just jumped over the wall as he threw the baby down to me and I caught her."
Irish state broadcaster RTÉ reported that at the back of the house, another neighbour, Ian Molloy, helped rescue a three-year-old toddler passed to him through a window.
"When the mother dropped the baby, me and the brother caught the baby," he said.
"He took the baby handed it over to one of the neighbours and the neighbour took the baby.
"The woman jumped out, she hurt herself badly when she jumped out."
An investigation into the cause of the fire is under way.
The two children and four adults are being treated in hospital for the effects of smoke inhalation. RTÉ said some of them are believed to have sustained other injuries.