Armed jewel robbers surrender after Paris chase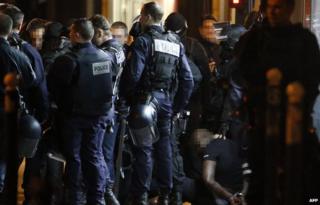 Two armed robbers who held a man hostage have released him and handed themselves in after being chased by police across Paris.
The men had held up the Cartier jewellery shop near the city's central Champs Elysees, where they reportedly used a staff member as cover.
They escaped on a motorcycle, and following a police chase took a man hostage from a hairdressers.
Paris has experienced a wave of robberies in recent years.
The authorities said that the two suspects exchanged fire with police outside the jewellery shop, where they attempted to drag a member of staff as cover, before fleeing the scene and initiating a police chase across the capital.
Last summer, 111m euros (£88m; $138m) worth of precious stones from the Carlton Hotel in Cannes and 2m euros in gems and watches was stolen in a separate robbery.
Also last year, a suspected member of the gang of jewel thieves known as the Pink Panthers was arrested in southern France.
The Pink Panthers are an international band of jewel thieves, many of whom hail from the Balkans, who are known for their daring robberies and burglaries.
They are thought to have stolen over 250m euros of precious stones over 10 years.