Spanish PM Rajoy rejects Mas's early Catalan election call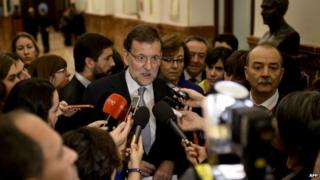 Spanish PM Mariano Rajoy has dismissed as a "step to nowhere" a proposal for early elections in the restive region of Catalonia, where a non-binding vote on independence was held this month.
The president of the north-eastern region, Artur Mas, said an early poll was the only way for pro-independence parties to push for secession.
He could face prosecution for helping to organise the 9 November vote.
Mr Rajoy is due to travel to Catalonia on Friday.
The prime minister's visit to the region's capital, Barcelona, is seen as an attempt to win over public opinion after the ruling centre-right Popular Party and the Socialist opposition both sharply opposed this month's so-called "consultation", which the government sought to block through the courts.
Accusing the Catalan president of abandoning the majority of his region's electorate, Mr Rajoy told reporters at the parliament in Madrid that people's rights and freedoms were being attacked and he vowed to defend Spain's sovereignty and constitution.
"[Artur Mas] wants to force Catalans to choose between being Catalan and being Spanish, or between being Catalan and being European, which makes no sense," the prime minister said.
'No stopping now'
Spanish prosecutors want to have Mr Mas and two of his allies charged with disobedience, perverting the course of justice and misusing of public funds.
Their case will be heard by the High Court of Justice in Catalonia.
With elections to the Catalan parliament not due until 2016, Mr Mas told an audience of 3,000 people late on Tuesday that "the moment has come to use the only tool that we have left to be able to hold the consultation".
"Having gone so far it would not be understandable that we now stopped on the path we have begun. We need to know with precision if there is a clear majority in Catalonia to have a state or not."
Under Mr Mas's plan, if early elections returned a solid pro-independence majority, the new government would inform Spain and the international community of "the intent to form a state in Catalonia".
To succeed, the centre-right Convergence and Union alliance led by Mr Mas would need to win the support of its parliamentary rival, the Republican Left, for a joint list.
Nearly 81% of the 2.3 million people who are estimated to have voted came out in favour of independence in the region of 7.5 million people.
However, with turnout put at no more than 41%, the Spanish government argues that they represented only a minority of Catalans.
Catalonia, Spain's wealthiest region, has its own language and culture, and a history as a distinct entity going back to the Middle Ages.