Greece paralysed by first general strike for months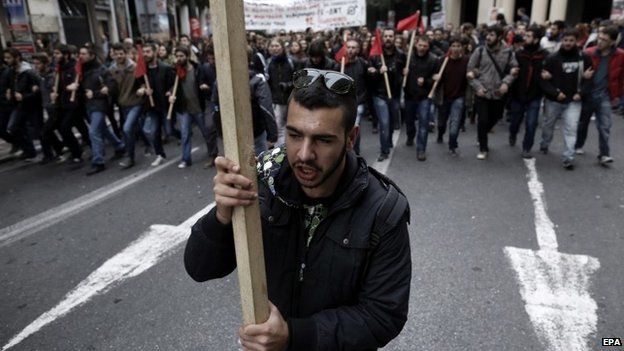 A 24-hour general strike over austerity measures has closed schools and public offices and heavily disrupted transport throughout Greece.
Thousands demonstrated in Athens and other big cities in the country.
But Greeks are angry at continuing austerity and high jobless rates.
Hospitals were open only for emergencies, and shops and banks were also hit by the first general strike in Greece since April.
Major routes in Athens were gridlocked, ferries were halted and air-traffic controllers walked out, leaving dozens of flights grounded.
Protesters marched carrying banners reading "we will not pay for their crisis".
One demonstrator told AFP news agency: "For the past six years, Greek society has suffered and is being strangled economically by measures taken by the government and our European counterparts."
According to Greek media, it was the 32nd widely observed strike since 2010, when Greece sought an international bailout in the midst of the eurozone crisis.
The strikes were called amid the threat of further austerity measures.
Ministers are negotiating in Brussels with Greece's EU/IMF lenders on next year's budget, which is expected to include pension reform and more layoffs.
In a statement, the private sector GSEE union said it was challenging the "dogmatic obsession" of both the government and its international lenders with austerity and tax increases.
The government has warned that due to a delay in negotiations, Greece may have to exit the bailout later than expected.
Parliament will debate the 2015 budget next month. Greece has the highest unemployment rate in the EU, at just under 26%, although the figures have begun falling. Youth unemployment is at almost 50%.