Spanish PM Rajoy: Most politicians not corrupt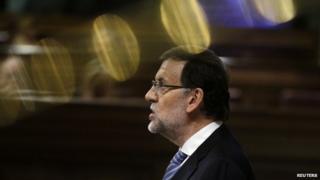 Spain's Prime Minister Mariano Rajoy has told MPs that most politicians are not corrupt, a day after his health minister quit over a kick-back scandal.
The governing Popular Party (PP) has been caught up in a wave of allegations and Mr Rajoy was laying out a series of measures to tackle corruption.
Ana Mato resigned after a judge said she benefited from corrupt practices allegedly involving her husband.
Mr Rajoy told MPs that all corruption hurt democracy and discredited Spain.
"I care deeply about injustice. I cannot accept that the suspicion of corruption spreads to all Spanish politicians," he said.
Announcing a "powerful arsenal" of measures to tackle the problem, the prime minister said that all political parties would have to observe strict new rules on financing, transparency and conflicts of interest.
Opposition leader Pedro Sanchez told Mr Rajoy he was in no position to fight against corruption, saying: "You are not able or legitimate to lead."
Ms Mato, 55, was seen as close to Mr Rajoy and decided she should go after a meeting with the prime minister on Wednesday evening.
Hours earlier, a high court judge in Madrid said he believed she had benefited personally from gifts some years ago as part of the so-called Gurtel scandal.
Under the alleged kick-back scheme, business figures are said to have paid for flight tickets and other trips in exchange for Popular Party contracts. In Ms Mato's case, children's birthday parties were reportedly paid for.
Although the former health minister could be called to give evidence, she has not been named as a suspect.
The Gurtel scheme, said to have run for 10 years until 2009, is one of a string of corruption scandals to have hit both the ruling PP and the opposition Socialists.
Last month, the prime minister apologised to Spaniards for the cases affecting his party.
Perhaps the biggest scandal is the Barcenas affair, which involves allegations of a slush fund operated by former PP treasurer Luis Barcenas from which bonus payments were said to have been made to several senior PP figures.