Mary Lou McDonald: Irish parliament is suspended after Sinn Féin accuse Joan Burton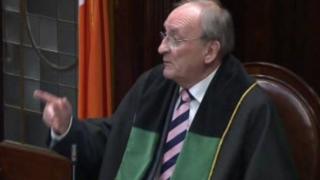 The Irish parliament has been suspended three times amid angry exchanges after Sinn Féin accused the deputy prime minister Joan Burton of making defamatory remarks against them.
It follows her comments on the republican links of an alleged abuser.
Sinn Féin TD Aengus O' Snodaigh tried to raise Ms Burton's remarks again.
However the speaker, Sean Barrett, told him he should bring this to the Committee on Privilege and Procedures.
He refused to resume his seat, and was suspended for 15 minutes.
The row first broke out after Sinn Féin's deputy leader Mary Lou McDonald raised the case of an alleged cover-up of sex abuse by Irish language activist Domhnall Ó Lubhlai.
Sinn Féin accused Mrs Burton of making defamatory remarks aimed at their party.
Earlier, Mr Barret, said records had been checked and no allegations had been made.
He said the officials who checked the record "aren't biased".
He asked Sinn Féin to check their records and said he would return to it, if there was an issue.
Earlier this month, Ms McDonald was suspended from the parliament for refusing to take her seat. She had asked a question about water charges and refused to sit down.
She was excluded until 19 November.