Ukraine in anti-corruption pledge as parliament meets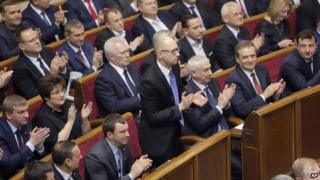 Ukrainian President Petro Poroshenko says he would like a foreigner to head the country's new anti-corruption body.
Mr Poroshenko was addressing Ukraine's parliament, as it convened for the first time since elections in October.
He described "rampant corruption" as the "main cause of poverty in Ukraine".
Meanwhile MPs reappointed pro-EU politician Arseny Yatsenyuk as prime minister. The government has been battling pro-Russia separatists in the east for months.
'Sleep with a gun'
Addressing parliament after it opened, Mr Poroshenko said Russia still posed a military threat to Ukraine.
"We will sometimes have to even sleep with a gun under the pillow. The enemy is on our doorstep," he said.
He also said someone "from outside Ukraine", "equally distant from all political forces", should head the anti-corruption office.
Volodymyr Groysman was elected Speaker of the parliament - considered the third-most important post in the country.
Mr Groysman is the country's first Jewish Speaker. He was previously mayor of the central city of Vinnytsia.
A pro-EU coalition of 302 MPs was formed in the 450-seat parliament, consisting of Mr Poroshenko's party and its allies. Mr Poroshenko described the coalition as a "unique opportunity".
However, a number of parliamentary seats for eastern areas controlled by pro-Russian rebels remain empty.
The separatists held their own elections in early November, which Mr Poroshenko and the EU denounced as illegal and in violation of a September truce between the two sides.
Earlier this month, Mr Poroshenko ordered the withdrawal of all state services, including funding for hospitals and schools, from rebel-held areas.
Sanctions blacklist
Also on Thursday, there were reports that the EU had added 13 Ukrainian rebels and five separatist groups to their sanctions list, for their role in the elections in rebel-held areas.
The separatists would face asset freezes and travel bans, diplomatic sources said. Details are expected to be published on Saturday.
The Ukraine crisis began a year ago, when then-President Viktor Yanukovych abandoned an agreement on closer trade ties with EU in favour of closer co-operation with Russia.
This decision sparked pro-EU protests in the capital Kiev, eventually toppling Mr Yanukovych in February.
In the weeks that followed, Russia annexed Crimea, in Ukraine's south, and pro-Russian separatists took control of the eastern regions of Donetsk and Luhansk, declaring independence.
Separatists have been fighting government forces since April. A ceasefire was agreed in September, but it has been broken regularly.
Russia denies accusation by Ukraine and Western countries that it is arming the rebels and sending troops across the border.
However, the rebels have admitted being helped by "volunteers" from Russia.