Juncker survives no confidence vote over tax allegations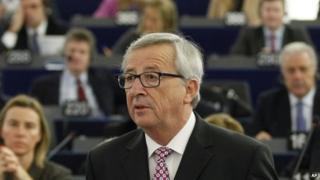 European Commission president Jean-Claude Juncker has survived a vote of no confidence in his leadership.
MEPs backing the motion said Mr Juncker was unfit to hold office, alleging he presided over tax avoidance schemes in Luxembourg while he was prime minister.
The Commission chief has denied the claims.
The vote, in the European Parliament, was bought by a group of right wing and anti-EU parties including Britain's UKIP and France's National Front.
Some 101 MEPs voted in favour, with 461 voting against.
UKIP leader Nigel Farage was criticised by the Britain's Liberal Democrats, which released a statement saying that he had not turned up to cast a ballot on his own motion.
"This shows that this proposal was never anything more than a shameless media stunt," the party said.
UKIP MEP Steven Woolfe said he and his colleagues would keep trying to hold the European Commission to account.
"The scandal of what Juncker did as the friend of big business will not go away," he said, according to the Reuters news agency.
Mr Juncker took over as head of the EU's executive body at the start of November.
He has come under pressure over claims that some 340 global companies were granted deals to help them avoid tax during his 18 years as prime minister of Luxembourg - a tenure which ended last year.
The Commission is currently investigating tax schemes offered by Luxembourg to multinational companies to see whether they broke EU laws.