Baby born at Kilkenny roundabout after mother's car crashes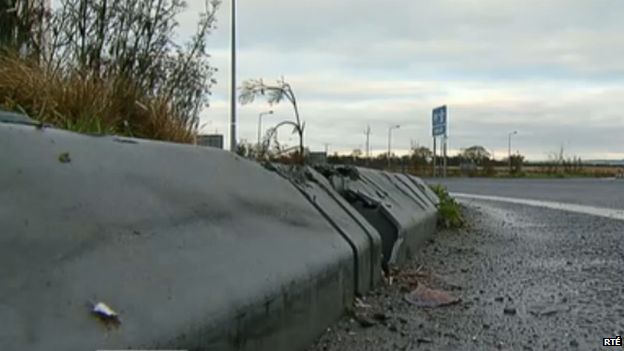 A woman has given birth to a baby girl in her car after crashing into a roundabout in the Republic of Ireland.
She was driving from her home in County Carlow to hospital at about 19:30 BST on Thursday when she went into labour.
Her vehicle crashed into a roundabout in heavy fog outside Kilkenny city.
A number of passers-by stopped to help, including a retired policeman and his wife, Eamonn and Mae Doyle. Mrs Doyle helped to deliver the child safely.
The mother and baby were then taken to St Luke's Hospital, Kilkenny, by ambulance.
An emotional Mrs Doyle told the Irish state broadcaster, RTÉ: "The driver's door was opened and the lady was leaning over in the passenger seat, and she just said to me 'catch my baby'.
"And I put down my two hands and I caught her baby."
The police officer's wife, who has no midwifery experience, said the baby began to move and cry as she held the child in her hands.
"I told her mam: 'She's fine, she's alive and the ambulance is coming'," Mrs Doyle said.
The couple found a blanket and wrapped it around the baby as they waited with the mother for paramedics to arrive.
They said the umbilical cord was removed by ambulance staff at the scene.
"It was about 20 minutes until the ambulance came," Mrs Doyle said.
"The man from the ambulance stooped over my shoulders and he called for a clamp. He clamped the baby and he took the baby away and I went home."
A spokesman for St Luke's Hospital said the mother and baby were doing well.