France UMP: Cyber attack fails to halt leadership vote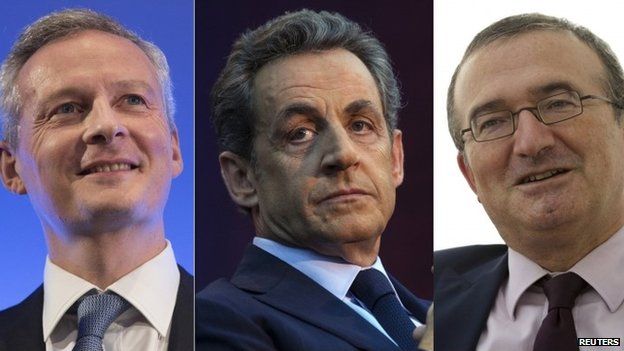 Members of France's centre-right UMP party have continued with an online leadership ballot despite an early cyber attack which slowed voting.
A complaint was lodged with police after the attack on Friday evening, which may have prevented some members casting their vote.
The party was voting online after fraud accusations beset its last ballot.
Nicolas Sarkozy is tipped to win but needs a strong showing to keep his presidential re-election hopes alive.
Since Mr Sarkozy's defeat by Socialist candidate Francois Hollande in the 2012 election, the UMP has struggled to organise as an effective opposition party despite Mr Hollande's dismal opinion ratings.
Challenging Mr Sarkozy for the UMP leadership are two men, former Agriculture Minister Bruno Le Maire and MP Herve Mariton.
The cyber attack had been "one of the risks anticipated" and had only succeeded in slowing the voting process, the party said, though Mr Mariton warned "thousands" had been unable to vote.
Acting leader Luc Chatel described the attack as "organised" but turnout among the 268,341 UMP members was strong and the incident would not undermine the ballot, he added.
As polls closed at 19:00 GMT, the party said that more than 150,000 members had voted.
Mr Sarkozy, who served one term as French president, is expected to top the vote but the 59-year-old is under pressure to win by a wide margin.
"A result below 70% would be in fact a defeat for him because he is so much the charismatic saviour, that's how he wants himself to be seen," Dominique Moisi of the French Institute for International Relations (IFRI) told Reuters TV.
"Less than that score would not do, and would be used by his opponents as absolute proof that his return is a failure."
Mr Le Maire, 45, is seen as the strongest challenger.
Mr Sarkozy has dismissed him as an "ENA [France's elite National School of Administration] man who speaks German". "When people see him, they change the channel," he said.
Even if, as expected, Mr Sarkozy wins without the vote going to a run-off, a poor showing could encourage other party figures to stand against him for the UMP's presidential ticket in 2017.
Former prime ministers Alain Juppe and Francois Fillon both want to be the UMP's candidate for president.
Mr Sarkozy is himself a divisive figure, disliked by some French voters for his unusually high-profile private life, with critics branding his one-term tenure as the "bling-bling" presidency.
Mr Sarkozy is also subject to several corruption and misconduct inquiries.
They range from claims he tried to influence senior judges, to an allegation that he received campaign funding from former Libyan dictator Col Muammar Gaddafi. Mr Sarkozy has strongly denied the allegations.
The 2012 leadership ballot degenerated into a hugely damaging row as Mr Fillon refused to accept the victory of Sarkozy ally Jean-Francois Cope.
Declared the winner, Mr Cope stood down this May after the party suffered badly in the European elections as the far-right National Front capitalised on voter discontent.
National Front leader Marine Le Pen is due to be returned unopposed as party leader at its meeting in Lyon on Sunday.