France Hollande: Staff moved after Gayet photos appear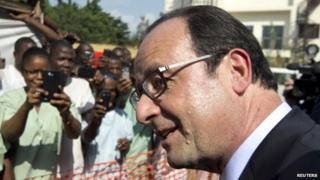 Five members of the French president's staff have been reassigned as police investigate photos taken of Francois Hollande with actress Julie Gayet inside the Elysee Palace.
The photos in a French gossip magazine show the pair sitting on a terrace in the grounds of the presidential palace.
Their alleged love affair made worldwide headlines in January.
Police believe the photos may have been taken by a member of the president's staff last month on a mobile phone.
Voici magazine described the photos of the president and Ms Gayet - published earlier this month - as a "tender moment... behind the walls of the Elysee", where she spends "several nights a week".
Newspaper reports say some of the staff who have been transferred as police investigate the security breach were appointed by President Hollande's predecessor, Nicolas Sarkozy.
Photos in January of the president in a scooter helmet visiting Ms Gayet in a Paris apartment set off a media frenzy as the president was at the time in a relationship with Valerie Trierweiler.
In March, a French court ordered Closer magazine to pay Ms Gayet 15,000 euros (£12,000) over a breach of privacy for revealing the affair.
Valerie Trierweiler, a journalist, published a bestselling memoir soon afterwards detailing their relationship, in which she depicted the president as a self-centred champagne socialist with no time for the poor.