Thousands protest against Russian health cuts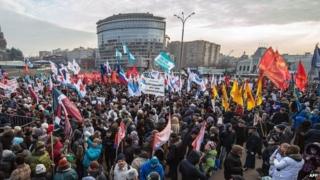 Thousands of Russians have staged marches in Moscow and other cities in protest at health reforms which include plans to close hospitals and cut jobs.
Doctors, unionists and supporters of parties across the political spectrum took part, despite bitter cold.
Authorities say the reforms can improve care by concentrating specialists in better hospitals, but doctors fear they are only intended to save money.
Russia's budget is under pressure from Western sanctions and low oil prices.
Last week Finance Minister Anton Siluanov said the falling oil price was costing Russia $100bn (£64bn) a year.
He said sanctions - imposed after the annexation of Crimea from Ukraine and stepped up over Moscow's role in the conflict in eastern Ukraine - were costing $40bn.
Meanwhile the national currency, the rouble, fell to more than 50 to the US dollar on Friday.
Protesters marched through the capital carrying banners and flags from liberal, leftist and nationalist parties.
Several were dressed as grim reapers or carried coffins representing the death of healthcare.
"We're here to show our solidarity,'' said research centre worker Tatyana Korshunova, 69, quoted by the Associated Press. "Nobody explained anything to us, there was no discussion [of the reform]."
Police put the numbers in attendance at 1,500, but eyewitnesses estimated that at least 3,000 were taking part.
The protests follow a smaller demonstration in Moscow on 2 November, which correspondents describe as the first social protest in Russia for a decade.
Smaller protests were held in St Petersburg, Vladivostok and other cities.
The reforms could lead to the loss of up to 10,000 doctors' jobs and the closure of some 28 hospitals and clinics by early next year.
The authorities say the changes are needed to modernise an outdated and inefficient system, and to facilitate a pre-election pledge by President Vladimir Putin to increase doctors' salaries.