German video shows fatal blow to student Tugce Albayrak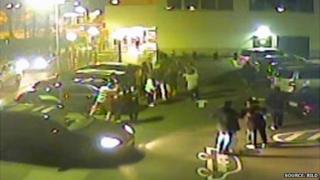 A German car park surveillance video shows a man's sudden attack on a young woman, who died after trying to stop the harassment of two girls.
Tugce Albayrak's death on Friday left Germany in shock. There were candle-lit vigils in Berlin and other cities.
The girls whom she defended have not yet given statements to police.
Bild newspaper published the video of the 15 November attack, outside a fast-food restaurant in the town of Offenbach, near Frankfurt.
Another man is seen trying to restrain the suspect, named only as Senal M, before he throws the fatal punch which leaves Ms Albayrak lying flat on the ground, motionless among a group of people.
The student teacher was in a coma for two weeks before her life support was switched off on Friday, her 23rd birthday.
She had intervened when she heard cries for help from the toilet of a fast food restaurant, German media report.
A post mortem examination was expected to be carried out on Monday, to determine whether it was the punch that killed her or the impact to her head when she hit the ground.
Thousands of Germans paid tribute to Ms Albayrak at the weekend.
Germany's President Joachim Gauck said she had shown "exemplary courage and moral fortitude".
Police in Offenbach were hopeful that the release of the video, tweeted below, would stir further witnesses to come forward.
The suspect, 18, is in custody. He is from the Sandzak region of Serbia and has confessed to striking Ms Albayrak, German public radio station Deutsche Welle reports.
A petition calling for Ms Albayrak, an ethnic Turk, to be awarded the national order for merit posthumously has gathered more than 100,000 signatures.
Confirming he would consider the award, President Gauck wrote to her family to say: "Like countless citizens, I am shocked and appalled by this terrible act. Tugce has earned gratitude and respect from us all.
"She will always remain a role model to us, our entire country mourns with you."