French MPs vote in favour of Palestinian state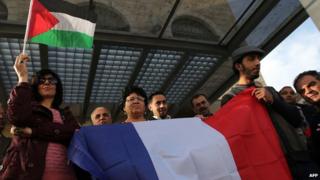 French MPs have voted in favour of recognising Palestine as a state, in a highly symbolic gesture that will not be binding upon the government.
The vote follows similar moves in the UK and Spain, whose parliaments have also approved non-binding resolutions recognising a Palestinian state.
Palestinian leaders welcomed the French decision but Israel criticised it, warning it would dent hopes of peace.
France has Europe's largest populations of Jews and Muslims.
Tensions between the two communities have risen with recent spikes in violence in the Middle East, such as Israel's assault on Gaza last summer.
The French parliament passed the motion urging the government to recognise a Palestinian state with 339 MPs voting in favour and 151 against.
Palestinian leaders expressed "gratitude" and urged France to "translate its parliament's vote into action," the AFP news agency reports.
However, Israel criticised the decision, saying "unilateral measures" would be "counter-productive" for the peace process.
Israel has argued that moves to recognise a Palestinian state are premature and undermine efforts to reach a deal between the two sides.
But Palestinian officials say they have been forced to pursue measures including seeking greater international recognition because of the failure of a succession of peace talks.
While many developing countries have recognised a Palestinian state, many Western European countries have traditionally supported the Israeli and US position that an independent Palestinian state should emerge from talks with Israel.
Recently however, several European countries have begun taking steps to recognise Palestinian statehood.
Sweden has gone further than most, with its government officially recognising Palestinian statehood in October.