Concordia captain delayed alarm to avoid 'panic'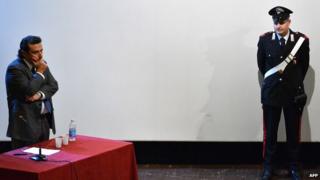 The captain of the ill-fated cruise ship Costa Concordia has told a court that he delayed sounding the alarm on the sinking vessel because he feared people would jump off.
Speaking on the second day of testimony, Francesco Schettino said that he was "afraid of panic" in the moments when the ship began to sink.
Mr Schettino is charged with manslaughter and dereliction of duty.
The Costa Concordia sank off Italy's coast in 2012, killing 32 people.
The catastrophe occurred after the vessel deviated from its planned course, veering close to rocks off the Italian island of Giglio.
Prosecutors argue that this deviation, and Mr Schettino's handling of the sinking as it happened, caused the deaths of people on board.
Mr Schettino has argued that his decisions on board saved lives.
On the first day of his testimony, he said that he deviated from the original route for a number of reasons, denying rumours that he had intended to impress a woman on board at the helm.
"I wanted to kill three birds with one stone," Mr Schettino said.
He said he wanted to please the passengers with a dramatic view of the rocky outcrop, salute a retired captain who lived on the island, and do a favour for the vessel's head waiter, who was from Giglio.
If convicted, Mr Schettino could face 20 years in prison.
---
Costa Concordia disaster
2012
13 Jan: Costa Concordia runs aground
31 Jan: Search for bodies abandoned
22 March: Five more bodies found in wreck
24 March: Fuel removal work completed
21 April: Salvage contract awarded to firms Titan Salvage and Micoperi
15 Oct: Capt Schettino appears at court inquiry
2013
3 Apr: Largest support platform in position
9 July: Captain Schettino goes on trial
20 July: Five senior crew members convicted of manslaughter
17 Sept: Ship rolled upright in 'parbuckling' operation
2014
14 July: Refloating operation begins
27 July: Arrives in Genoa for scrapping