Is Russian economic malaise Putin's biggest challenge yet?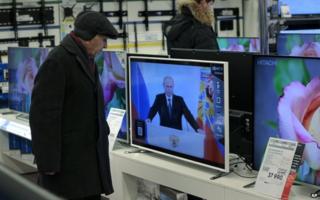 Some things never change - and in Russia it is the ability to make jokes about even the most challenging events.
President Vladimir Putin's state-of-the-nation speech showed that he is certainly aware of the challenges.
But a joke currently doing the rounds is revealing about the Russian economy's financial difficulties.
Mr Putin, the rouble and oil are all heading for 63. The president will turn 63 next October, oil is already trading at close to $63 per barrel, and the rouble - currently at 53 to the dollar - is very likely to slide to 63 next year.
The triple-63 reality is grim. The rouble has lost 40% of its value so far this year, inflation is at 9%, stock prices are back to mid-2009 levels, and net capital outflow is likely to reach a record 6% of GDP this year.
On top of those woes, the government is likely to run a substantial fiscal deficit and the economy will enter a recession in 2015.
Russia is also cut off from external financial markets by Western sanctions. However, it is not, yet, a disaster.
Russia does have sovereign wealth funds to fund the budget deficit and infrastructure investment. And the central bank still has large reserves that will allow refinancing of external debt incurred by the state, banks and corporates.
The real problem is not what happens in 2015 but Mr Putin's "When I'm 64" issue the following year (to quote The Beatles).
By 2016-17, the likely situation will be that the sovereign wealth funds have dried up and the government will have to undertake drastic spending cuts and/or raise taxes. That will certainly undermine domestic support for the government - with unpredictable political implications.
It is a relief that President Putin is aware of these challenges. He has just signed into law a three-year budget based on the assumption that the oil price will be $100 per barrel, and on a Russian economy growing by 1.2% next year - yet the current consensus forecast is for a 1-2% decline, rather than growth.
Even though the budget is already formally a federal law, Mr Putin's address to the nation proposed many dramatic changes to this document:
tax breaks and even tax holidays for private businesses
an amnesty for capital repatriated to Russia from abroad
a doubling of road construction
a 5% cut in government spending
If these things are implemented, the Russian economy can actually overcome the 2016-17 challenges. If the huge capital outflow is reversed, investment will grow and the rouble will strengthen.
If entrepreneurs believe that Mr Putin will protect them from corrupt and omnipotent bureaucrats, they will invest in expanding their businesses - which will result in higher wages and incomes and, therefore, in GDP growth.
There is only one problem with this scenario - the markets do not seem to believe it.
The rouble and stock prices actually fell rather than rose during the address. It is easy to see why.
In recent years, similar speeches have been delivered, campaigns against corruption and bureaucratic harassment have been announced, and even a tax amnesty has been carried out. But if judged on deeds rather than words, the Russian government has gone in the opposite direction.
Russia's corruption rankings have become only worse. And the state's expropriation of the privately-owned oil firm Bashneft this year has sent a very strong signal to those hesitating to move their capital back to Russia.
It may be that this time will be different. It is quite possible that Mr Putin will manage to deliver on his promises. But so far the markets are certainly not betting on it.
Sergei Guriev is professor of economics at Sciences Po in Paris