France promises to fight anti-Semitism after attack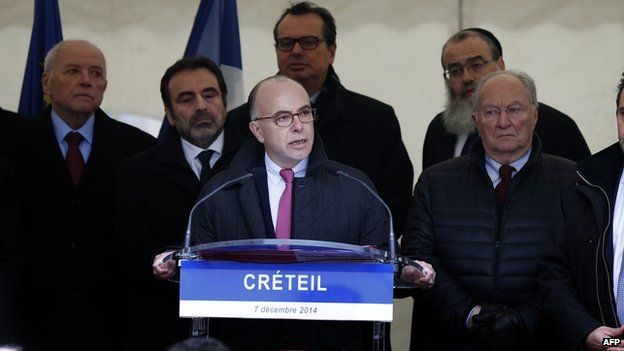 France's interior minister has vowed to make the fight against anti-Semitism a "national cause" following an attack on a Jewish couple last week.
Bernard Cazenueve was addressing a rally in the Paris suburb of Creteil where the attack took place.
Three people have been arrested in connection with the attack, in which a woman was raped and money stolen.
Officials say there has been a sharp increase in the number of anti-Semitism attacks in France in recent months.
Mr Cazeneuve told hundreds of assembled demonstrators that the government would defend France's Jewish community with "all its force".
"We must make the fight against racism and anti-Semitism a national cause," he said.
Roger Cukierman, the head of France's umbrella group for Jewish organisations, the CRIF, said that anti-Semitism was an increasing problem in France.
"Jews feel in danger. Some are already leaving France," he said at the rally.
Lawyers said the young couple were targeted because of their religion.
One of the attackers allegedly told the male victim "you Jews, you have money".
France has the largest Jewish community in Europe and a recent report said there had been a significant increase in anti-Semitic acts there this year.
Earlier this year, a French jihadist was accused of murdering four people in a gun attack on the Jewish museum in the Belgian capital, Brussels.
Two years ago, three Jewish children and their teacher were among seven people murdered by French Islamist Mohamed Merah in the southern city of Toulouse.