EU's Mogherini pledges Syria aid in Turkey visit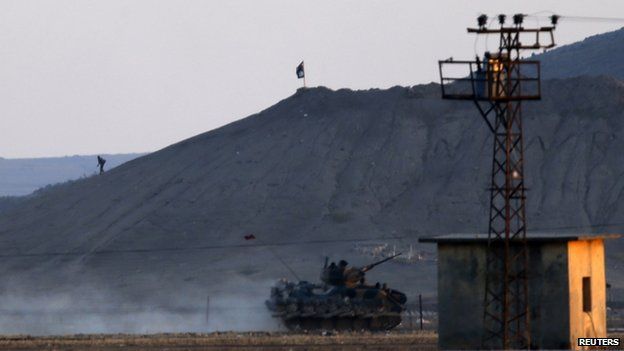 EU foreign policy chief Federica Mogherini has pledged €70m ($85m, £50m) in aid to Syrian refugees in Turkey during a two-day visit to the country.
Ms Mogherini also discussed ways of stopping the flow of foreign fighters into Syria across the Turkish border.
The visit is the most high-profile EU delegation to Turkey in several years.
The EU team is also set to discuss ways of making progress with Turkey's negotiations to join the EU, which have been going on since 2005.
"The visit... is a strong indication of the strategic importance of the EU-Turkey relationship and our desire to step up engagement," Ms Mogherini said in a statement.
Negotiations over Turkish membership of the EU have been held up because of disagreements over the divided island of Cyprus and resistance to membership from some member countries.
Ms Mogherini met President Recep Tayyip Erdogan, Prime Minister Ahmet Davutoglu and Foreign Minister Mevlut Cavusoglu.
The aid package for Turkey will help it support nearly two million Syrian refugees.
"The EU intends to be one of the biggest humanitarian donors on the Syrian crisis," she told reporters in Ankara.
She added that increased sharing of intelligence between the EU and Turkey would be key to stopping fighters entering Syria.
"We discussed the situation of foreign fighters. It is one of our common interests we have to face - having good co-ordination and good strategy to stop the flow on both sides" she said.
Thousands of Europeans have travelled to fight in Syria with Islamic State or other militant groups, and for them Turkey is a key transit point.
Turkey argues that EU governments should be working harder to prevent putative fighters from travelling to the region.
It has accepted some 200,000 Syrian Kurds from the Kobane area on its border alone, as fighting rages in the town between Kurds and Islamic State militants.
In an interview with the BBC ahead of the talks, Ms Mogherini said that while the crisis in Syria was not something that could be solved from Brussels, the EU still had a role to play, including "the empowerment of more actors that might take the lead".
"I am sure that the UN can play some sort of a positive role," she said.
Recently appointed Ms Mogherini is grappling with a large number of issues now confronting the EU including the continuing crisis in Ukraine.
Russia and Turkey are major trading partners. Russia provides the bulk of Turkey's gas requirements and is set to build Turkey's first nuclear power plant.
Turkey has not imposed sanctions on Russia over its annexation of Crimea, and the EU is urging it to do so, or at least not to increase trade with Russia to fill gaps left by suspended EU exports.